Take a look inside Raffeen, which has been completely renovated.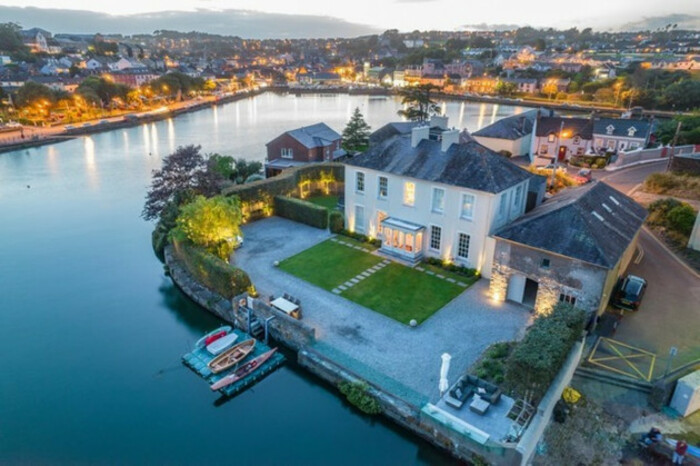 POSITIONED RIGHT ON the waterfront overlooking the seaside town of Kinsale, Raffeen is the kind of property that would make you stop in your tracks if you passed by. 
On the market for €4.9 million through Colliers, the five-bed residence is a beauty from all angles.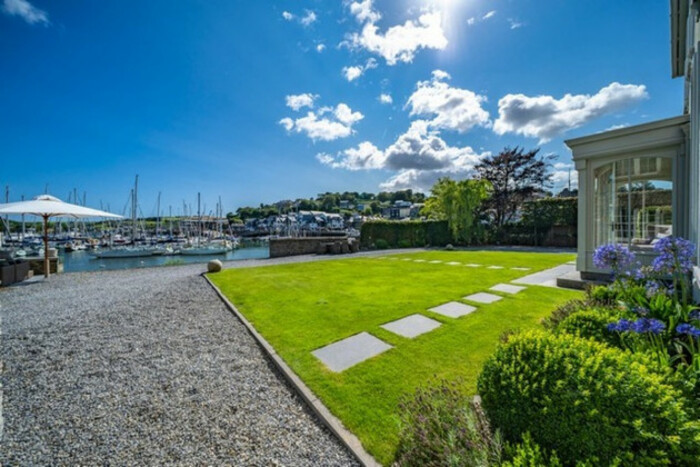 Its origins date back to the early 18th century, with additional works being carried out in the late 19th century. The house has had only two owners since the 1900s, with the current owners purchasing it in 2013.
When purchased, the property had become a protected structure and required extensive restoration and modernisation. Today, it is presented in immaculate condition and boasts an interior worthy of a spread in a glossy magazine.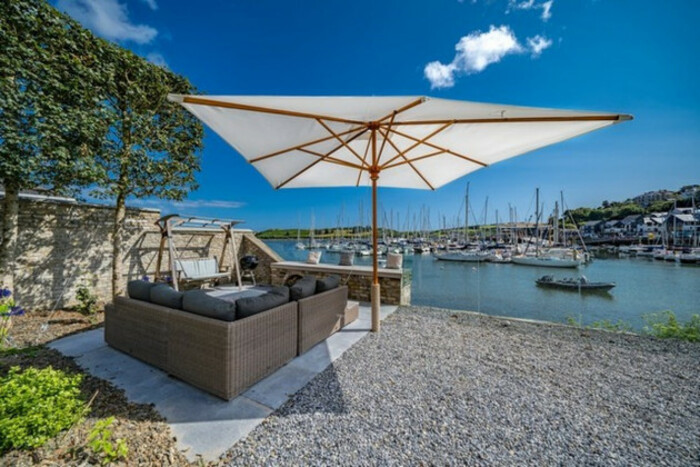 It benefits from a south-facing aspect and large Georgian windows, allowing for ample natural light and beautiful views over Kinsale. 
Perhaps the most impressive feature, however, is the manicured garden and direct water access. There's a neat lawn to the front and side of the property, as well as seating areas on the gravel patio, making for the perfect place to spend a summer evening.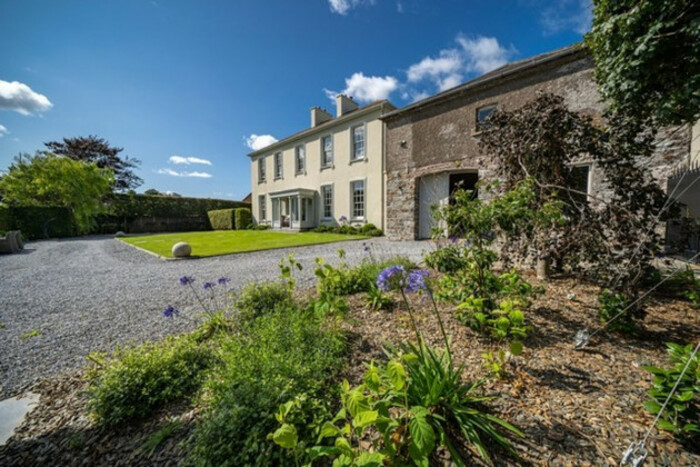 Stone steps lead from the front garden to a private floating pontoon, which has unrestricted water access and also has a mooring buoy located on the waterfront. To the side of the house, there's a two storey boat house with planning permission for its renovation and change of use.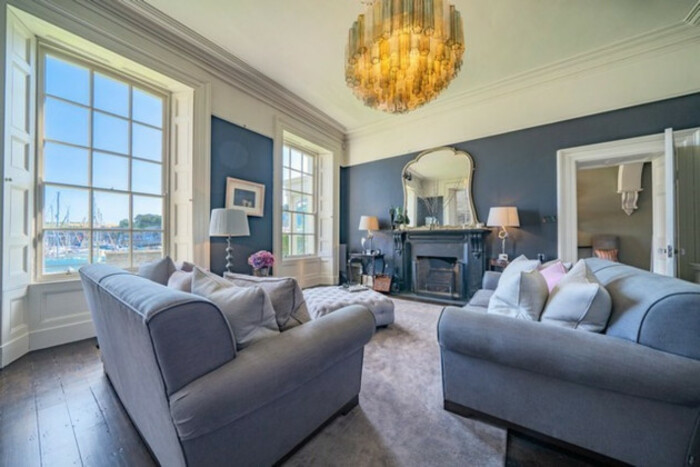 Stepping inside, the property is tastefully decorated throughout. The renovations that were carried out were done so with the integrity of the property in mind, resulting in a modern and elegant home with a great sense of character.
Each room benefits from exceptionally high 4m ceilings, while the neutral blue colour scheme throughout is a nod towards its waterside location.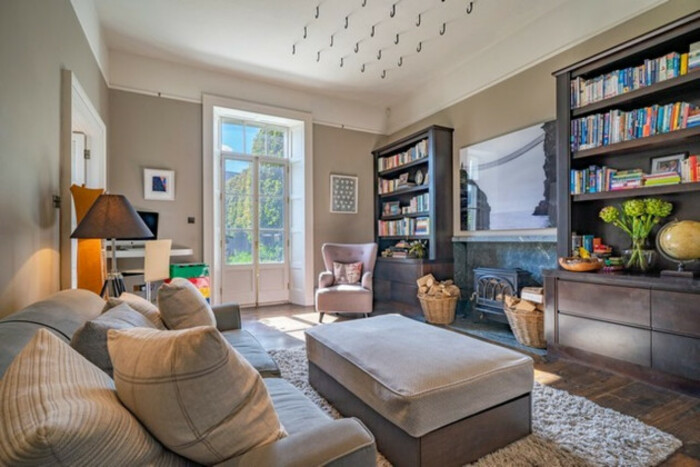 The main reception room is to the front of the house and overlooks the harbour, where it would be easy for one to forget on a sunny day that they're in Cork, not in the Mediterranean. A separate living room has a cosier feel, with a wood-burning stove in here.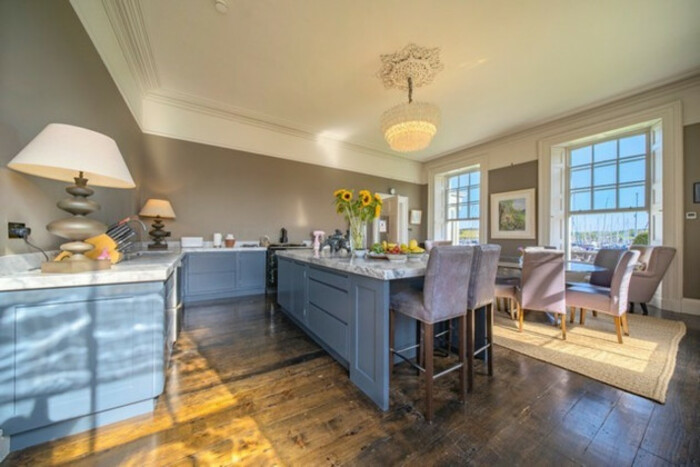 The kitchen and dining area (also to the front of the property) is perfect for entertaining, with ample room for a generously sized dining table. There's a large centre island in here, while the counter tops are deep-set.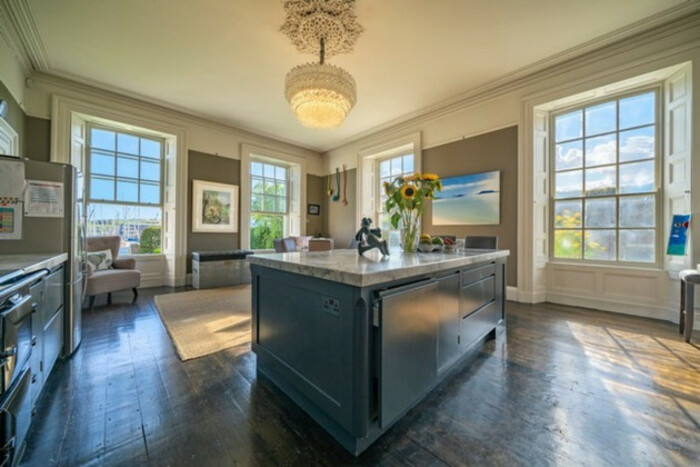 There's plenty of space for guests at Raffeen, with five bedrooms and three bathrooms across the 3,444 sq ft accommodation. 
Right on its doorstep is the beautiful Scilly Walk Loop, with the walk to the heart of Kinsale taking 10 minutes. For jetsetters, Cork Airport is a quick 20-minute drive away.
A truly spectacular property with endless appeal, the sale of Raffeen is not one to be missed.
Raffeen, Scilly, Kinsale, Co Cork is on the market for €4,900,000 through Colliers via Daft.ie.