In Dublin, house prices increased by 2.8% and apartment prices increased by 0.7%.
THE COST OF houses and apartments increased by 3.7% nationally in the year to March, according to the latest data from the Central Statistics Office (CSO). 
This compares to an increase of 3% in the year to February and an increase of 0.9% in the 12 months to March 2020. 
The data comes as the government has again defended its housing policies in the Dáil, with Taoiseach Micheál Martin told that people would be on the streets protesting if it wasn't for the Covid-19 pandemic. 
The CSO Residential Property Price Index for March showed that in Dublin, residential property prices saw an increase of 2.5% in the year to March, while property prices outside Dublin were 4.9% higher.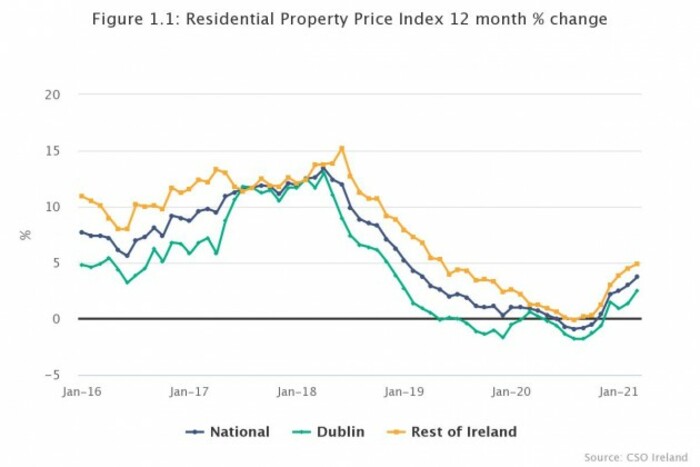 Source: CSO
In Dublin, house prices increased by 2.8% and apartment prices increased by 0.7%.
The highest house price growth in Dublin was Dun Laoghaire-Rathdown at 3.9%, while Fingal saw a decline of 0.4%. 
The five most expensive Eircode areas by median price were in Dublin, with Blackrock at €615,000 the most expensive. 
Outside Dublin, house prices were up by 4.5% and apartment prices up by 10.4%.
The region outside of Dublin that saw the largest rise in house prices was the Midlands at 6.7%. At the other end of the scale, the Midwest saw a 1.2% increase. 
Source: CSO
Overall, the national index is 14.9% lower than its highest level in 2007.
Dublin residential property prices are 20.1% lower than their February 2007 peak, while residential property prices in the rest of Ireland are 17.3% lower than their May 2007 peak.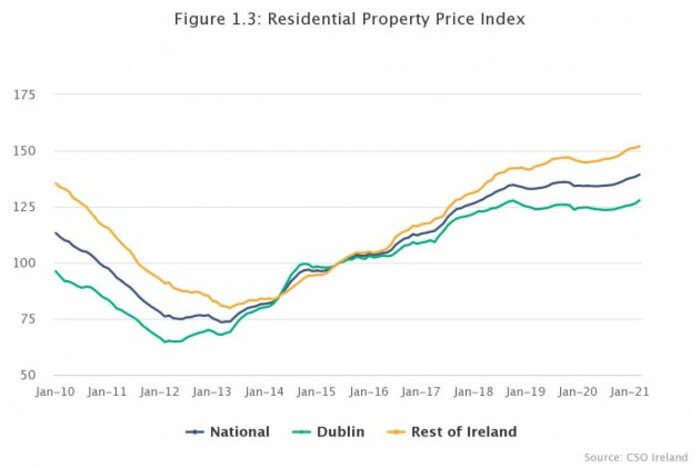 Source: CSO
The Dáil heard some sharp exchanges on the issue of housing this afternoon, with Taoiseach Micheál Martin being told that people would be "on the street protesting" if it wasn't for the Covid-19 pandemic.
Sinn Féin, the Social Democrats and People Before Profit all criticised the government's approach to housing with Martin staunchly defending the coalition, saying that it is committed to "unprecedented funding" for residential construction.
Sinn Féin leader Mary Lou McDonald TD said that "what you have to do here is not rocket science".
Firstly, end the tax advantages enjoyed by these institutional investors and get them to pay their fair share of corporation tax and capital gains tax. Secondly, impose the stamp duty surcharge on the purchase of residential property by these investor funds. And thirdly, introduce emergency legislation to stop these funds bulk-buying residential developments.
She added: "That's what you should do, but your answer to each of those sensible necessary proposals is no, no, no. Is this why you led Fianna Fáil back into government, to allow Fine Gael to continue calling the tune on housing."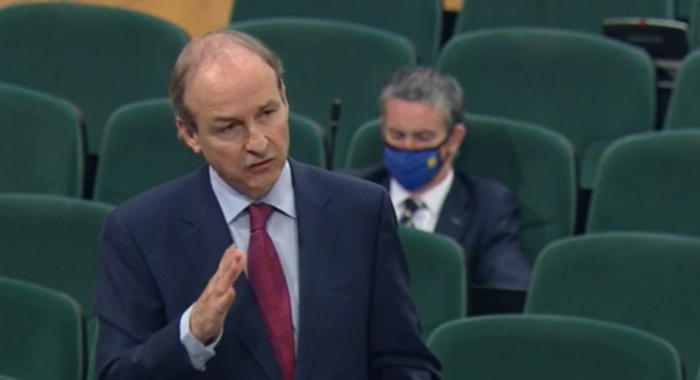 Source: Oireachtas.ie
In response, the Taoiseach said he led his party into government to "make housing a key priority issue" and "spared no effort to comprehensively develop a range of initiatives".
We have committed to, in funding terms, the largest social housing programme in the history of the state, and to embed that in multi-annual funding over the next five years. And our target is to build 50,000 social houses, enabling people to access housing.
The Taoiseach added that, in addition, €1.2 billion has been earmarked for urban development to provide services to support house building and €1.4 billion has been made available to Irish Water to help new houses access improved water supply.
He added that Sinn Féin was "more about rhetoric and sloganeering than you are about substance around housing".
"I'm not going to be deflected by your sloganeering or the degree to which you want to exploit the housing crisis for your own electoral and political advantage," he said.
Social Democrats' co-leader Catherine Murphy told the Taoiseach that, "not only do we have a supply side crisis, we have an affordability crisis", adding that the government was not doing enough.
"All the evidence is that the best method of delivering affordability is the interventionist approach," she said.
The Taoiseach said the government was intervening in several ways, citing social housing, the Shared Equity scheme and cost rental supports.
"Be in no doubt, right now the government is the biggest player in the housing market."
Murphy said that money has been spent on housing by successive governments but that in many cases this has been in the form of "top dollar" long-leases paid by local authorities for social housing.
Taoiseach, I think if there wasn't a pandemic we would have boots on the street, people would be people on the street protesting at this point because there's a whole generation that have just simply had enough and are not going to take that kind of response.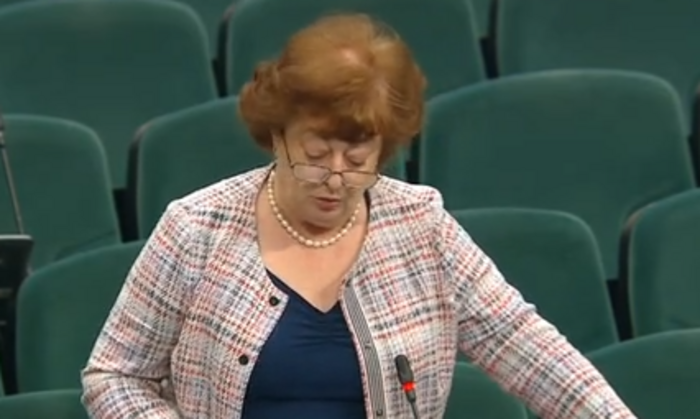 Source: Oireachtas.ie
Rent prices
Meanwhile, the latest rental report from Daft.ie has revealed that the average monthly rent in Ireland during the first quarter of the year was 2.1% higher than the final three months of 2020.
Rents during the first three months of 2021 were found to have had their largest quarterly gain since the middle of 2018.
The report also showed that housing supply has fallen outside Dublin, where the number of homes available to rent was up 20% on 1 May compared with the same date last year.
In contrast, only 1,150 rental units were available to rent outside the capital on 1 May – down one third from the same date in 2020.
[embed id="embed_3"]
The cost of renting increased in every city outside of Dublin in the twelve months to March, with the capital the only city in the country where rents fell from 2020 to 2021.
In the capital, the average monthly rent during the first quarter was €1,974, a drop of 6.5% over the past twelve months.
But rents outside of Dublin are 7.1% higher than they were in the first quarter of 2020, with renters paying €900 extra per year on average.
Nationally, the average monthly rent stood at €1,443 in the first quarter of 2021, up 1.7% over the past year and up by almost 95% from a low of €742 per month in late 2011.
Housing charity Threshold's CEO John-Mark McCafferty warned that findings of the report, which also showed a drop in the number of homes available to rent, were not good for first-time buyers.
"With a year-on-year drop in the number of homes available to rent nationwide, combined with a lack of affordable homes to buy, prospective first-time buyers remain in an impossible situation," he said.
With reporting by Stephen McDermott and Rónán Duffy
Note: Journal Media Ltd has shareholders in common with Daft.ie publisher Distilled Media Group