Source: Shutterstock / tomeqs
50% to 80% of apartments built between 1991 and 2013 are estimated to have at least one defect.
THE GOVERNMENT HAS approved a new €2.5 billion remediation scheme for owners of defective apartments, with up to 100,000 apartments expected to be impacted.
A memo on the scheme was brought to Cabinet this morning by Housing Minister Darragh O'Brien and will cover defects in apartments that were built between 1991 and 2013.
The supports in particular will be focused on the remediation of fire safety, structural safety and water ingress defects in purpose-built apartment buildings, including duplexes.
Under the scheme, which is set to be in operation early next year, people who have already had these defects repaired or have work underway, will be able to recoup the cost from the State.
The Housing Minister has estimated that the average cost for remediation is €25,000 and that between 62,500 and 100,000 apartments are impacted.
According to O'Brien, the overall cost of the scheme is set to be between €1.6 billion and €2.4 billion.
O'Brien said that the scheme is "fully funded" and that there will be no cap in place.
The scheme itself is set to be administered by the Housing Agency, with Owners' Management Companies will be funded to carry out the repairs.
When asked if the Government would pursue companies who built these defective apartment blocks, O'Brien said that they would.
"We're going to leave no avenue untravelled to see what can be done to pursue those that are responsible for this," O'Brien said.
"Government are stepping into a market failure here, let's be straight. We need to give people certainty that they're going to get assistance from the State."
The Working Group to Examine Defects in Housing, which reported to O'Brien last July, estimated that between 50% and 80% of apartments and duplexes built between 1991 and 2013 are impacted by some kind of defect.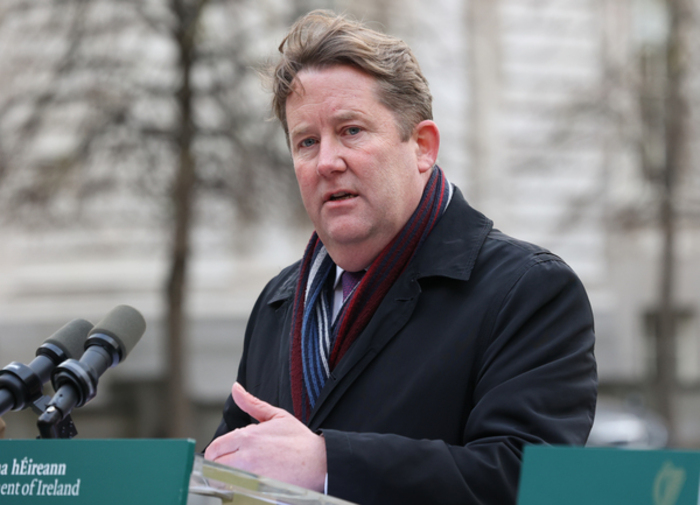 Source: Sam Boal
When asked if the cost of both this scheme and the defective blocks scheme were a direct cost of poor building regulation by Fianna Fáil led Government's in the 90s and early 2000s, O'Brien said that the regulation at the time "wasn't sufficient".
"I think if you look at some of the defects that start in the early 90s and right the way through and the regulation that was in place wasn't sufficient," O'Brien said.
"Fundamentally, the workmanship that was carried out some of the materials used the quality of the work that was undertaken was not up to standard.
"We know where the responsibility for that lies.
"Many people paid really significant amounts for those homes to live in and they were not up to standard. And that's something that angers me greatly."
Scheme welcomed
The scheme itself has been welcomed by the Constructions Defects Alliance (CDA), particularly the decision to backdate payments for people who have already had work carried out.
"Today's Cabinet decision is an important one for the tens of thousands of people living in apartments affected by fire safety defects," said Pat Montague, spokesperson for the CDA.
"It's clear that a remediation support scheme is now going to be put in place and a political decision has been made to include people who have already paid or are paying towards remediation costs.
"These decisions are significant although the detail of how they will operate in practice has yet to be worked out."
While the decision by the Government has been welcomed, there was still work to be done to ensure that the scheme was "fit-for-purpose" and sought assurances that a stakeholder-based Implementation Group would be set up.
Additional reporting by Christina Finn and Jamie McCarron