WHEN YOU THINK of 'luxury' in interior design terms, you probably think of expensive fabrics, silk sheets and custom-made furniture. But luxe rooms don't have to involve a sky-high budget.
Applying a creative eye to the items you already have in your home is sometimes all that's needed to upgrade your space. In other cases, a few small investment purchases can really pack a punch.
This week, we've rounded up seven outside-the-box ways to update a room. From furniture rearranging to playing with layers, some quick updates will add instant elegance without breaking the bank…
1. Find small corners to curate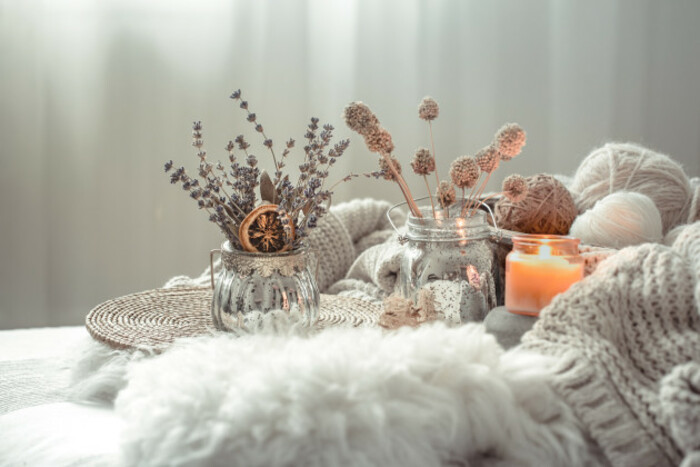 Source: Shutterstock/PV productions
There's a fine line between clutter and chic when it comes to styling a room with accessories. Enter the 'vignette'. In the interior design world, a vignette is a small curated area that are made up from a collection of objects – be it some books, a thoughtfully placed ornament or two, a candle, a couple of prints, or all of the above. These collections can make a space feel less cluttered because they prove that some thought has gone into them.
Pinterest is your friend when it comes to vignette inspiration. Some general rules of thumb include grouping an odd number of items together, styling around a light source and varying the height of the objects.
2. Arrange furniture around something other than the TV
You'll be amazed that switching up the layout of a room can instantly exude luxury. First things first, choose a focal point other than the television. The fireplace or a bay window, for example, will create a different atmosphere.
Secondly, let some air flow and make sure you don't have any furniture pushed up against the wall. Even in small rooms, allow a few inches. Aside from being aesthetically pleasing, this will make the room easier to clean. And lastly, nothing says luxury like less effort, so make sure every seat is arm's length from a coffee or side table.
3. Swap the 'big light' for lots of smaller ones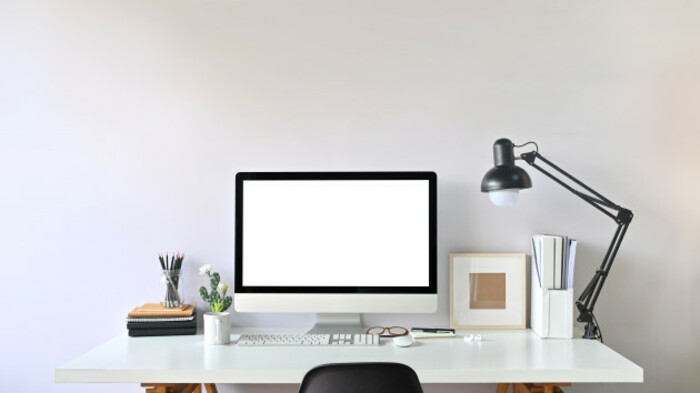 Source: Shutterstock/Mr.Whiskey
Seeing as the home is more multifunctional than ever, lighting is so important for establishing times and places. What works well for that Zoom meeting won't up the luxury factor for an evening of drinks.
Introducing ambient, task and accent lighting to every room will create a sense of balance and suit different activities. Three light sources per room is a great rule to go by. So a central light, a floor lamp and a table lamp is a great place to start.
4. Make your own reading nook
Reading nooks promote rest and can be so inviting when done right. A nook could be a corner of the living room, an area under the stairs or a seat in the dining room – you decide.
Setting a comfy armchair against a bookcase filled to the brim is essential but a few more items will really make the space. Add a footstool, a cosy blanket, a side table and stand an eye-catching floor lamp. Remember to make sure everything is easy to reach, so you can hunker down and get stuck into a new novel.
[embed id="embed_2"]
5. Add plants, plants and more plants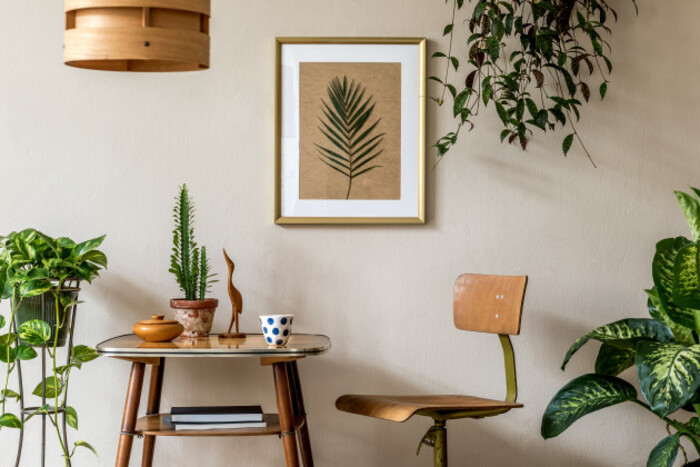 Source: Shutterstock/Followtheflow
If you really want to make a room feel luxurious, don't be shy when it comes to adding houseplants. An impressive houseplant can introduce a new focal point to a space. Whether you decide to fake it or go the real route, the beauty of going green is that plants are adaptable and will keep any space fresh and homely.
Just make sure to do your research around the correct sunlight level and watering frequency, so you can enjoy their company for a long time.
6. Swap a standard item for a statement one
A statement piece, be it an armchair, a footstool or a lampshade, shows that you've completed the groundwork and are happy with your overall design scheme. You've gained the confidence to move onto the addition of an attention-grabbing piece that has even more personality.
A room may already have a central light source, so adding a large, in-your-face pendant will add the luxury, for example. Similarly, a pendants over a dining table will establish the area and show you've thought about every detail down to the right lighting.
7. Add some luxury to your windows
Often our eyes tend to gloss over curtains and blinds because we're so used to seeing them, but upgrading your window dressings can completely transform the room. There's no rule that says you have to choose between blinds or curtains. Combining them is a sure way to add elegance to a space. Adding both will show your considered approach to home design, as well as save on heating costs.
Spend some time to do some research and don't forget that curtain rods and tie backs all play their part in creating a cosy, design-led look. No budget for new curtains? Taking down the current set, washing them, airing them and re-hanging them can make a huge difference too.