Each week, we ask someone based in Ireland with a passion for interiors to share one photo of their favourite spot in their home.
This week, Cliona Nic Dhomhnaill (@no.3_terrace) chatted us through her favourite spot in her Howth home: her living room.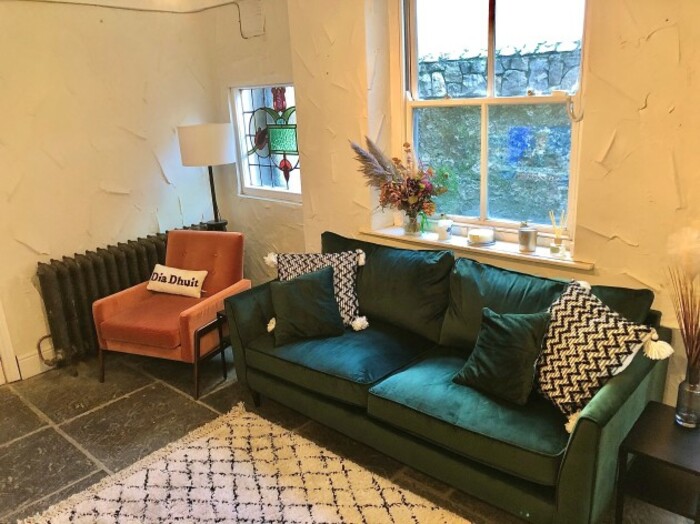 What do you love about this part of your home?
I love how cosy this room is. Lighting the fire and sitting down in front of Netflix on a Friday evening is what I look forward to all week!
What's your favourite object in here and why?
This answer definitely changes on a daily basis but today my favourite object is definitely the burnt orange velvet armchair from Made.com. I love how retro it looks and I think it fits in really well with the rest of the room. 
Be honest: How much tidying did you do before taking this photo?
Luckily not that much. We don't have many surfaces where we can leave things hanging around – but I will admit I did tidy away two cups of tea and an empty packet of chocolate buttons for the sake of the picture!
[embed id="embed_2"]
What was your inspiration when you were putting this room together?
The room already had a very rustic and country vibe as you can see from the slate floor and the textured plasterwork on the wall, so I knew we had to honour that styling and find key pieces that would work well in a room like this. I love midcentury modern and found a lot of inspiration from Pinterest and Instagram and knew that aesthetic would really suit this space so we just rolled with it. I was determined to have a velvet green sofa so made sure I got that in and based a lot of our other purchase decisions around that. 
Is there anything in here you'd like to change?
Honestly not really. It's still a work in progress and there are still some bits here and there that we need to get for the place but I wouldn't change anything about it, just add to it.