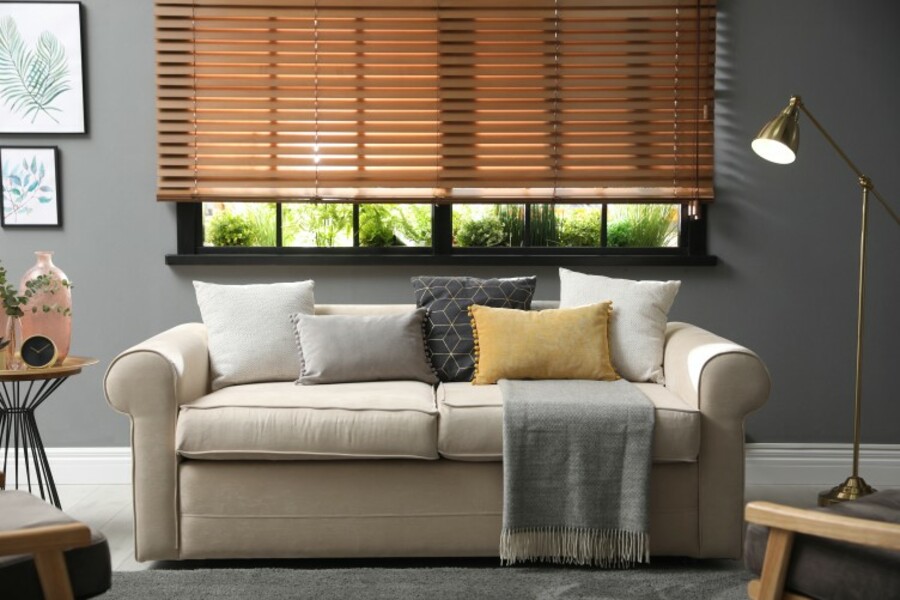 Source: Shutterstock / New Africa
Laura de Barra has some hacks for bringing a saggy, lumpy couch back to its best.
LAURA DE BARRA regularly brings her lifestyle and home maintenance masterclasses to the Glenveagh Home Magazine on TheJournal.ie. This week: a masterclass in reviving a tired, saggy sofa in under 20 minutes.
OVER TIME, A ONCE comfortable couch can start to feel and look beyond its best. Seat cushions may dip, back cushions may feel lumpy and overall, things don't quite look as they should. 
Before you go and buy a new couch (or reach for another throw) take a read through my guide below. What many people do not realise is that there are some simple steps you can take to give your couch a whole new lease of life, instantly bringing back the comfort and visual appeal…
Step one: Plumping cushions
If you have natural filling like down or feather, you will be able to shake and massage your cushions back in to shape very easily. Plumping your cushions weekly will ensure they do not lose shape so badly again.
However, most couches that sag are filled with a synthetic filling that can get really lumpy over time. It can also slip and gather lower down in the cushion, leaving the top lacking the volume needed to sit comfortably. First of all unzip the cushion cover and take out the insert. (If your cushion cover does not have a zip, you can carefully unpick the stiches, go for the ones on the bottom so the restitching isn't seen.)
Some inserts will simply need a massage. Work your way around the insert, massaging out lumps and bumps and ensuring the filling is evenly distributed throughout the insert.
Step two: Getting rid of lumps and bumps
If your insert needs a bit more love, unzip or unpick the side and get your hands right in to the filling. The lumps can be pulled apart gently and this will bring some volume back in to the filling. Again, just make sure you are distributing it evenly and pay particular attention to the corners.
[embed id="embed_2"]
Step three: Topping up the filling, if needed
If you feel that the volume is really lacking, this is normal. All couch filling reduces over time. You can buy top up filler (it's usually labelled as 'cushion and soft toy filling') easily, it's pretty inexpensive and looks like a bag of candy floss. Use it to fill the voids to bring the cushions' plumpness back. I prefer to place it inside the original filling so it's less obvious. An even better alternative is to use any sagging scatter cushions you may have. Just slice open the insert, pull apart the stuffing to plump it up, and stuff the couch cushion insert. Simple, free and effective.
Step four: Checking regularly for any necessary repairs
This step takes us out of the 20-minute timeline but is worth it to boost your couch's longevity. If you feel that your couch has a dip that has nothing to do with the cushion, it is most likely broken suspension. This will be a broken spring, loosened webbing or snapped wire. It can be expensive to investigate fully and repair but there is a handy alternative. All you need is a strong but comfortable sheeting, available from most popular online shopping sites. These unfold to fit the base of your couch, and form a platform rigid enough to support the seat cushions over a dip, but not so hard that it's uncomfortable. 
Want more tips and hacks? Laura de Barra's debut book, Gaff Goddess: Simple Tips And Tricks To Help You Run Your Home is on shelves now, published by Transworld Ireland. Buy it here or in all good bookshops, and follow Laura on Instagram for even more cleaning and lifestyle tips.