Your Neighbourhood is a series of local area guides from TheJournal.ie, presented by KBC. We're bringing you the best of city neighbourhoods combined with the latest property data. 
FIRST OFF, LET'S be honest. Tallaght is more than a neighbourhood. It's one of the biggest urban areas in the country, with roughly the same population as Galway city. During the last boom, its branch of Dominos Pizza was famously the busiest in the world – serving three pizzas every minute.
But up until the 1960s, Tallaght was just a small village in south county Dublin. It developed rapidly after being designated a 'new town' in 1967 and continues to grow. Even today, many residents can remember a time when their homes bordered green fields. (Some still do.)
Over the years of rapid development, Tallaght has experienced some PR problems (and that's aside from the fact that its name is said to derive from the Irish támh-leacht, meaning 'plague pit'). But it's now a thriving hub with a two theatre, an active arts centre, an institute of technology, a teaching hospital… and probably the only shopping centre in the country with its own theme song.

Take me there! OK, here you are at the Tallaght Luas stop, right by the Square. (Feel free to sing the song.)
So what's the big draw? Tallaght's older estates tend to be very settled communities where many of the homes' original owners are still living. This gives them a strong community feel with many active residents' associations holding family days and running upkeep works.
It's an extremely well connected area, with the Luas at its heart and the M50 and N7 on the doorstep. It's also unusual for Dublin in having the greenery and walking routes of the mountains on its doorstep – without the astronomical prices of some areas further east.
Plus, significant investment over the last two decades has seen some impressive facilities arrive in the area.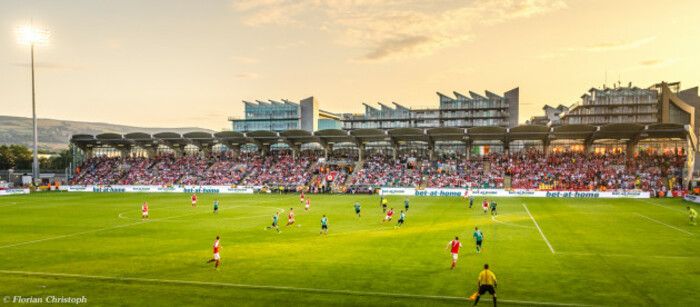 What do people love about it? It's got everything, says lifelong resident Peter Fitzpatrick.
The place has been completely transformed over the last 25 years. We now have pretty much everything right on our doorstep: Tallaght Hospital, the IT [now part of TU Dublin], the new stadium, lots of shopping options, culture and great cafes and restaurants. There's also some great parks and trails.
Lisa, who helps run Belgard Heights Residents Association, names the community spirit:
We use the main green in the middle of the estate for our yearly Family Day every July. It's a time for all the families to come out, have a lovely day, and meet with neighbours that they may not have seen in a while – also a chance for others to have a chat!
And… what do people NOT love about it? Tara de Buitlear, of the Tallaght Community Council, says planners could help create a more stable community in the centre.
[We need] more family-sized homes in the new town centre to allow young people and families put down long-term roots here and not have to leapfrog to the commuter belt – there are already too many buy-to-rent apartment developments.
Peter Fitzpatrick also hopes that future planning will help bring the area together.
Tallaght Village has been very much left behind, it seems disconnected from what has become the new centre of Tallaght around the Square.  Hopefully they'll do a lot more to breathe life into the old village.
What's the story with house prices? Prices vary considerably, but overall Tallaght is one of the cheapest areas in the city. According to Daft.ie the average asking price is currently €233,593 – far less than the all-Dublin figure of roughly €395,000.
How long will it take me to the city centre? Just over half an hour in the car on a good day. A fair bit more on lots of other days.
The Luas, though, is a reliable 35 minutes. There are several bus routes – the 54a, 56a, 65, 75, 76/a and 77 – which take longer but offer more route options.
Where should I get lunch? The County Fare is a new community cafe in the Tallaght Enterprise Centre. They serve specialty coffee and use local producers for a range of sandwiches, soups and hot dishes.
Alternatives: Peachtree East serves bistro-style food in the old village, while the Blazin' Grill is a steak restaurant doling out big feeds right by the Luas stop. Wing It has built a cult following for its chicken wings in the Square – it recently also opened a city centre location. 
And what's my new local? Mortons pub in Firhouse is a bit of a way from Tallaght village, but is a classic old-school Dublin pub with a regular clientele and a good pint.
Alternatives: Molloys is a big and busy spot on the main street in Tallaght village, a favourite with locals. Aherne's on the Old Bawn Road is a little quieter.
Schools and supermarkets? Unsurprisingly given its size, Tallaght has a wide range of supermarket options. The Square has a large Tesco and a Dunnes, with an Aldi around the corner, a Lidl towards town on the main road, and two SuperValus in Aylesbury and Firhouse.
It's also extremely well supplied with schools. There are too many to name – the Department of Education website lists 35 primary schools across Dublin 24, and nine secondary schools supporting them.
Anything else I should check out? Want a hike? The Dublin Mountain Way is a great walking trail that starts at Sean Walsh Park next to the stadium, and runs over the mountains all the way to Shankill.
OK, I'm sold. Give me one piece of Tallaght trivia to impress a local. The world's first war correspondent was from Tallaght. William Howard Russell, born in 1820, was a reporter for the Times who wrote dispatches from the British lines in the Crimean War, the Indian Rebellion and the Franco-Prussian War. He was described by one British soldier as
a vulgar low Irishman, [who] sings a good song, drinks anyone's brandy and water and smokes as many cigars as a Jolly Good Fellow. He is just the sort of chap to get information, particularly out of youngsters.
Russell was a pioneering reporter whose writing revealed the reality of warfare to the general public for the first time. He was later knighted.
Do you live in Tallaght? If so, let us know your thoughts in the comments!