Your Neighbourhood is a series of local area guides from TheJournal.ie, presented by KBC. We're bringing you the best of city neighbourhoods combined with the latest property data. 
IT'S HARD TO say for sure exactly where Stoneybatter starts, because (a) as with all good Dublin neighbourhoods, its exact borders are a matter of dispute; and (b) Stoneybatter is a state of mind.
OK, we're joking. Broadly speaking it's an area in northwest inner city Dublin, roughly between Arbour Hill and the North Circular Road with Grangegorman to the east and the Phoenix Park to the west.
Formerly dominated by the cattle market at Hanlon's Corner – which closed in the 1970s,  but not before giving the neighbourhood its nickname of Cowtown – Stoneybatter has undergone rapid gentrification over the last two decades. In the process it has earned an (only sometimes deserved) reputation as the hipster capital of, eh, the capital.
Centred around the row of shops and pubs on Manor Street, housing in the neighbourhood is dominated by 'the buildings' – the streets of two-up, two-down artisan cottages running north from Arbour Hill, built around 1900. There are apartments, too, and a few larger homes on its fringes towards Montpelier and around the North Circular Road.
Community-wise, Stoneybatter blends young families, many new to the area, with residents of several generations' standing. It also has a healthy dose of students, with the new Grangegorman DIT campus set to add many more.

Take me there! OK, here you are on Manor Street – the heart of the neighbourhood.
So what's the big draw? In the last 10 years Stoneybatter has made a name for itself as Dublin's hipster quarter. It was dubbed "Williamsburg by the Liffey" by the Guardian and plays home to a number of independent bars, shops and restaurants. There's also a rare indie cinema, the Lighthouse in Smithfield.
But it's not just for the fixie brigade. It also boasts a formidable neighbourhood spirit, with a friendly atmosphere and strong links to an older Dublin community. Plus it's only a hop, skip and a jump from the city centre, and has the Phoenix Park on its doorstep.
What do people love about it? It's not the hipsters, says Jamie Lewis, owner of the Wool Felt Shop on Benburb Street - it's the heart.
As a Brit who's moved around various cities and countries throughout my life, I've found Stoneybatter to be the most friendly and welcoming place to settle as a resident, business owner and more recently a parent. Media often focus on the trendy coffee shops, pubs and food – but behind all these is another local who probably knows your name, and your child's, and your neighbours and the dog they're looking after. People here are proactive with voluntary and community stuff. Whether they're running a cult film night at the Lighthouse, history tours, festivals, playgroups, workshops, street cleans or simply lending a neighbour a hand, everybody seems to be making it a better place to live or visit.
Simon Judge agrees. It takes a village, he says.
Easily the best thing about living in Stoneybatter is despite its very handy proximity to the city centre, it retains an amazing everybody-knows-everybody village vibe. That friendly community feel has become even more apparent to me since the birth of my son two years ago. Grangegorman campus has been an amazing addition too.
And… what do people NOT love about it? Rapid gentrification has its costs, says Jamie.
It's sad to see people who've been here a long time and love it have to move away either through rent pressures or more space for a growing family. 
The numbers passing through can be an issue too, says Simon.
My main bugbear is the traffic. As Manor Street is a centuries-old thoroughfare it's no surprise the road is still a vital artery out of the city. But I just can't help feeling the cars trundling up and down the street on a daily basis (not to mention using the side streets as a rat run) long ago became far too numerous. At its busiest, the traffic definitely erases some of the small-town feel I love so much about Stoneybatter.
What's the story with house prices? The current average asking price for a home in Stoneybatter is just over €372,000, according to Daft.ie. Stoneybatter is an in-demand area and this has risen sharply – up by 12 per cent year-on-year, and more than doubling since its lowest level during the recession.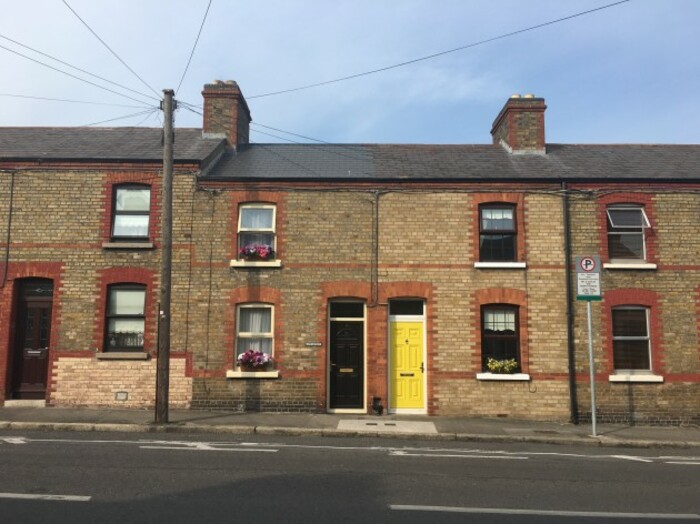 Source: TheJournal.ie
How long will it take me to the city centre? From Manor Street, it's a handy 15-minute walk to Henry Street or 25 to Grafton Street. The area is well served by buses (37, 39, 39a, 70) and the red Luas runs along Benburb Street with stops at Smithfield and Museum. The green Luas also snakes north along the eastern fringe, stopping at Broadstone and Grangegorman.
Where should I get lunch? You might try Slice D7, a friendly neighbourhood cafe serving upscale juices, fine breakfasts and creative cakes. There's hot competition for tables though.
Alternatives: For a less high-falutin' plateful, Cowtown Cafe is a diner that serves good food at keen prices. Love Supreme has arguably the neighbourhood's best coffee, with a food offering of gourmet pies, sausage rolls and toasties.
And what's my new local? Walsh's is a venerable local that was named Ireland's Pub of the Year 2018. AND they have cheese every Tuesday. Hard to beat.
Alternatives: L Mulligan Grocer was a big part of the great Stoneybatter gentrification of this century. One of the first Dublin pubs to serve craft beer in a serious way, it also does modern Irish food in a friendly setting.
A recent opening is the Belfry, refurbished after years with its shutters down. It draws a younger crowd with cocktails and a rotating food offering in its (small) beer garden.
Schools and supermarkets? Supermarkets are concentrated up towards the north end of the district: there's a Tesco on Prussia Street, a newish Lidl on the Old Cabra Road, and an even newer Lidl on Brunswick Street.
There are four primary schools in the area: Brunswick CBS (Catholic, boys, 164 pupils), Stanhope St (Catholic mixed infants, senior girls, 347 pupils), Dublin 7 Educate Together (multi-denominational, mixed, 465 pupils), and St Gabriel's (Catholic, mixed, 118 pupils).
There are two secondary schools, St Joseph's (Catholic, girls, 181 pupils) and St Paul's (Catholic, boys, 226 pupils).
Anything else I should check out? For a quiet moment, try the hidden gardens of the Irish United Nations Veterans Association – tucked behind an unassuming blue door that opens most mornings.
OK, I'm sold. Give me one piece of Stoneybatter trivia to impress a local. Stop was a global hit for the Spice Girls in 1998 – and the video was filmed in the heart of Stoneybatter. On Carnew Street to be exact, looking down towards the national school.
Do you live in Stoneybatter? Share your opinion in the comments!