Your Neighbourhood is a series of local area guides from TheJournal.ie, presented by KBC. We're bringing you the best of city neighbourhoods combined with the latest property data. 
RENMORE HAS BEEN a settlement for hundreds of years. But its modern history largely dates from the late 19th century, when the Renmore Barracks were built.
Originally home to the Connaught Rangers, the barracks brought hundreds of young men to the area – previously a small village dedicated to farming, fishing and harvesting seaweed – and a bigger community began to grow. 
Still, it wasn't until the 1960s that most of today's Renmore arrived in the form of a series of estates around large green spaces just north of Ballyloughane strand. About 2km east of the city centre as the crow flies, it's one of Galway's older suburbs with a well-settled community and amenities to match. 

Take me there! OK, here you are on the Renmore Road between the shops and the green.
So what's the big draw? Renmore is a quiet neighbourhood by the sea with loads of green space to go round. It's got good local sports clubs, a leisure centre, a few shops, and GMIT and the Bon Secours hospital are on your doorstep. It also has an active community – alongside the usual set of groups, there's a local pantomime society that has been entertaining Galway every Christmas for the last 40 years. 
What do people love about it? Pretty much… everything? "Having lived in Renmore for the past 53 years I think it's an easy place to love," says resident Joe McCarthy. 
It's most enjoyable to walk or cycle around this environmental jewel of beautiful gardens, tree lined avenues, manicured open parks, colourful community flower beds, and to experience the refreshing sea breeze at Ballyloughane Beach. 
It's only 4-6km from Galway's industrial hub or the city centre with frequent bus services. Friendly, outgoing and community-minded, Renmore people are well-known for their helpfulness.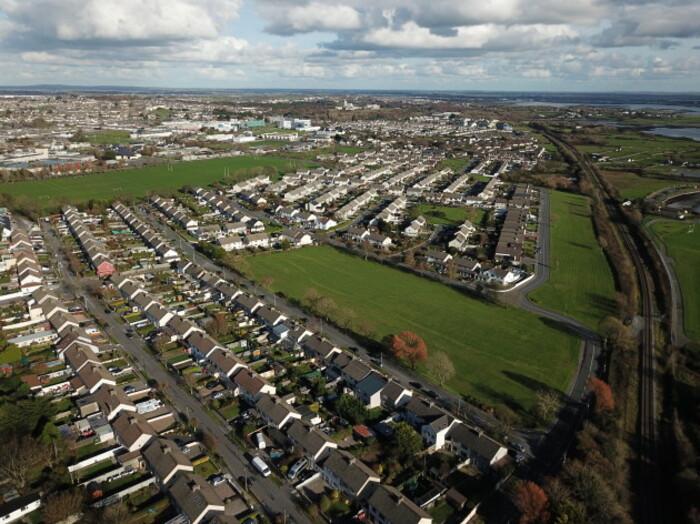 Source: Michael Duffy
And… what do people NOT love about it? The traffic can be a drawback, says Joe.
Renmore traffic is often exasperating due to the volume of 'rat' runs through the estate and the number of cars used for school transport. Could more children be encouraged to walk? Derelict sites at Dawn Dairies and the Corrib Great Southern need to be addressed.
What's the story with house prices? Lower than in some other areas of the city. Daft.ie doesn't track prices for Renmore individually, but the average asking price for a property in the wider east Galway city area is €225,566 – well under the city average of around €280k, and significantly lower than western suburbs like Salthill and Knocknacarra where averages are upwards of €300k. 
How long will it take me into town? From the middle of Renmore, it's about half an hour's walk around Lough Atalia into the city centre – either by the main road to the north, or the railway line to the south. 
Meanwhile the 402 or 409 buses will get you into town in less than ten minutes, if (and it's a big if) traffic permits – and it's the same story in the car.
Where should I get lunch? Head to the Full Duck, a neighbourhood place on the Renmore Road (they've another outlet in Salthill). They serve up coffee, cakes and mains with daily specials.
Alternatives: Next to the fitness centre, the long-standing Delight Cafe will do you a salad or a sambo. It's just been refurbished after new owners came on board.
And what's my new local? Renmore isn't as pub-heavy as some other areas of the city, and for a bigger selection you'll have to head into town. But on the way you could look into the Huntsman Inn, a bar/restaurant/hotel on College Road. 
Schools and supermarkets? There's no major supermarket in Renmore itself, but there's a Tesco Superstore and a Lidl on the right side of town – just north of the city centre.
There are two primary schools in the area: Scoil Caitriona Junior and Senior (Catholic, mixed, 400 and 376 pupils) and Gaelscoil Dara (Catholic, mixed, 463 pupils). 
There are no post-primary schools in Renmore itself, but several in surrounding areas.
OK, I'm sold. Give me one piece of Renmore trivia to impress a local. Our very own Michael D Higgins used to live here – he dropped its name while accepting the Freedom of the City in 2012, and has been active in the local community – opening schools and meeting sports clubs. And look, if it's good enough for the president… 
Do you live in Renmore? Share your opinion in the comments!