Your Neighbourhood is a new series of local area guides from TheJournal.ie, presented by KBC. We're bringing you the best of city neighbourhoods combined with the latest property data. 
RIALTO GOT ITS name when a man called Henry Roche got the contract to build an ornamental bridge over the main line of the Grand Canal, just south of what is now St James's Hospital.
His design drew comparisons to the famous Ponte di Rialto in Venice (look, people didn't travel much at the time). And the name gradually spread south until it came to encompass a rough triangle – bordered to the north by the hospital and to the south by the Grand Canal extension.
Rialto is an old area of Dublin with long connections to industry. The original canal was constructed to serve the Guinness brewery, and much of Rialto Street and Rialto Cottages were built to house Guinness employees at the tail end of the 19th century. These developments gave the area a redbrick character which it keeps to this day.
In the middle of the 20th century, it became home to two of Dublin Corporation's large-scale housing projects, Dolphin House and Fatima Mansions. The latter became a byword for failed inner-city development and was eventually demolished in the early 2000s; Dolphin House is currently undergoing extensive regeneration works.
In common with the rest of Dublin 8, recent years have seen an influx of younger renters and buyers who mix with residents of several generations' standing. House prices are also rising rapidly – jumping by almost 20 per cent each year since 2016.

Take me there! OK, here you are on the main street facing away from the Bird Flanagan and towards Dolphin's Barn.
So what's the big draw? Rialto is a historic area of the city very close to the centre, with a strong community and sense of identity. It hasn't been quite so completely transformed by gentrification as some other areas of Dublin 8 (although the rising property prices suggest that may not be far off).
And it's among the Dublin neighbourhoods with a real village atmosphere – one that residents speak very highly of.
What do people love about it? The village atmosphere, says local resident Leah Cullen – and the location.
I have amazing neighbours who are all happy to help each other out. The Luas is right on our doorstep. We're only a five minute drive from the gorgeous War Memorial and Phoenix Parks. Even though town is only minutes away, we can be at the beach, up a mountain or in a forest in 30 – 40 minutes.
Longtime community worker and activist Tony MacCárthaigh, who has been involved in several of the area's biggest social projects over the last five decades, also mentions the sense of community.
I know so many people there. I have been working there as a drugs worker, a counsellor, a community activist. And I retired there. When you walk through Rialto, you meet people, and you have a chat with people. Rialto is blessed with having a sense of a village.
And… what do people NOT love about it? It could do with more green space, says Leah. And regeneration hasn't caught up with every corner of the neighbourhood yet.
Apart from the canal, which is a lovely walk, there's not a lot of green space to just chill. More green areas would be lovely. Not many people have gardens around here either. Dolphin's Barn is a bit rundown. I'd love to see something being done with the old cinema. I see a "sold" sign on it, so hopefully it'll be put to good use soon enough.
"I would love to see the canal around Rialto being cleaned up and developed as a vibrant community facility," says Tony MacCárthaigh.
He is optimistic for the regeneration projects in the area, but adds that the neighbourhood needs a new set of community leaders:
I think the big challenge for Rialto is for us to get new leaders in who will have that sense of community as well.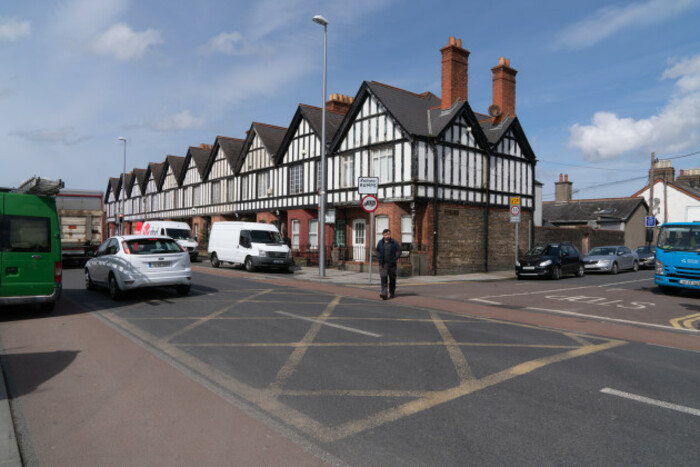 What's the story with house prices? Not the worst, but rising rapidly. The average asking price of a property in Rialto is €297,006 – well below the all-city average of roughly €410,000, according to Daft.ie. But prices in the area are increasing quickly, jumping by almost 20 per cent year on year.
How long will it take me to the city centre? No time at all. It's about a 40-minute walk from the centre of Rialto to Grafton Street. But the Luas red line will get you to the heart of the city inside 15 minutes.
Several major Dublin Bus routes run along the Cork Street end of Rialto, including the 77a, 27 and 151. The 123 runs past the other end of the neighbourhood, as do other routes passing St James's Hospital.
Where should I get lunch? If you're in the mood for something substantial, local institution the Amber Grill has been one of Dublin's finest chipper offerings since 1956.
For something smaller (or more conventionally lunch-y), try the Arch Cafe at the F2 Centre off Reuben Street – a community-focused cafe serving breakfasts, sambos, and a notorious black pudding and poached egg salad.
And what's my new local? The Bird Flanagan is a famous local named after notorious practical joker Willie Flanagan (of whom more here). It has a reputation as a friendly spot that's also very much the real deal.
Alternatives: There are other great pubs within a few minutes' walk – try the Royal Oak in Kilmainham, Fallon's on the Coombe, or Sheary's in Crumlin.
Schools and supermarkets? There's a Tesco Express at the crossroads in Dolphin's Barn. In terms of larger supermarket's, there's a Lidl on Cork Street and a Dunnes in Crumlin Shopping Centre.
There are five primary schools close to Rialto: St James's (Catholic, mixed, 244 pupils); Canal Way Educate Together (multidenominational, mixed, 197 pupils); Scoil Treasa (Catholic, mixed, 174 pupils); Griffith Barracks (multidenominational, mixed, 254 pupils); and Donore Avenue (Church of Ireland, mixed, 207 pupils). Several more are in Crumlin just across the canal.
A number of post-primary schools are nearby too. The closest are Presentation College (Catholic, girls, 242 pupils); CBS James Street (Catholic, mixed, 134 pupils); Inchicore CFE (interdenominational, mixed); Loreto College (Catholic, girls, 435 pupils); Crumlin CFE (interdenominational, mixed); St Kevin's College (interdenominational, mixed, 181 pupils); and Pearse College (interdenominational, mixed, 178 pupils).
Anything else I should check out? At the heart of the village, Ennis Butchers has a growing reputation as one of the best butchers' shops anywhere in the city – combining craft with good old-fashioned customer service. It's the first thing some people think of when Rialto is mentioned, and for good reason.
OK, I'm sold. Give me one piece of Rialto trivia to impress a local. The huge old Rialto Cinema building is a local landmark. It was used as a car showroom for years, but when it first opened in 1936 it was a temple to the movies – with a vast auditorium seating 1,600 people. It still brings an unusual art deco note to its street.
The building was sold at the end of last year, so we await news on its future.
(Bonus trivia: It was from Rialto that, in 1973, a religious sect predicted the end of the world at Christmas by comet strike. Members of the Children of God movement – whose Irish arm apparently operated from a house in the neighbourhood – stood outside the GPO with pamphlets warning of impending doom from the 'Christmas Monster'. Thankfully, the world didn't end, but you can read more details on the sect on Come Here To Me.)
Do you live in Rialto? Share your opinion in the comments!