TWENTY YEARS AGO, Rathmines was known as the student capital of Dublin.
It's gone rapidly upmarket since, with many of those large redbricks turned back into single-family homes. There's even a branch of Fallon & Byrne on the way.
The area begins on the south bank of the Grand Canal and stretches down either side of the Rathmines Road between Ranelagh to the east and Harold's Cross to the west.
Continuing south brings you into Rathgar – the exact borders, of course, are disputed. Anyway, let's talk about…

Take me there! OK, here you are on the Rathmines Road between the town hall and the library – the heart of the neighbourhood.
So what's the big draw? Rathmines has been a thriving commercial centre for well over a hundred years, with its fine landmark buildings a testament to the wealth of the area.
It offers the leafy streets and large houses characteristic of this part of Dublin, but with more income (and ethnic) diversity than some neighbouring areas and the civic amenities to match. Think of it as a bit like Donnybrook, but you can actually do your shopping here.
What do people love about it? It's in the middle of everything, says lifelong resident Hannah Kilroy.
I think the location really, and how well serviced by public transport it is. Town, Dundrum… the majority of places are easily reached by bus or Luas. Not to mention the fact that there is so much within walking distance too.
And… what do people NOT love about it? There's high demand for accommodation here – and gems can be hard to find, says Rathmines dweller Cormac Hughes.
Accommodation is getting more and more expensive, as is the case with all of Dublin. It's difficult to find modern houses or apartments that tick all your boxes – with things like decent-sized kitchens or easy-to-access parking.
What's the story with house prices? People pay a Southside premium to live here. The current average property price is just over €480,000 and rising, according to Daft.ie. Full details here.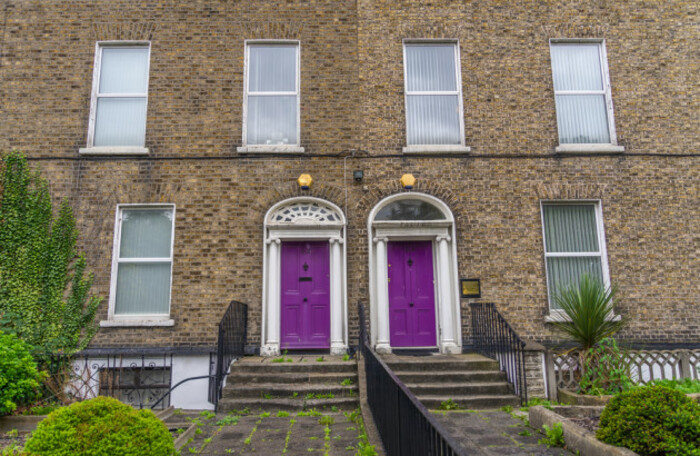 Source: Shutterstock/John And Penny
How long will it take me to the city centre? It's a handy half-hour walk into town from the junction of Castlewood Avenue and the Rathmines Road, and the trip takes you along the busy commercial strips of Camden Street and Aungier Street.
The area is well served by buses too, with the 14, 15, 65, 83, 140 and variations all passing through. The Luas Green Line makes two stops in nearby Ranelagh.
Where should I get lunch? Farmer Browns on the Rathmines Road serve up a compelling selection of sandwiches, salads and burgers in a relaxed atmosphere. It's a second outlet for the restaurant, which opened first on Bath Avenue.
Good alternatives are Two Fifty Square for locally roasted coffee (and occasional pop ups from highly regarded Jamaican food producer Lil Portie), or Pot Bellied Pig for pork-oriented brunch and lunch. The outlet of Fallon & Byrne in the Swan Centre serves up casual good food too. 
And what's my new local? Slattery's. In the same family for generations and calling itself "a pub for all reasons", Slattery's is the best sort of Victorian Dublin pub: dark, quiet, with a warren of snugs in which to hide away with a pint and a book.
Good alternatives are Blackbird for craft beer and crafted beards; or Rody Bolands for a match day crowd.
Schools and supermarkets? Rathmines offers shoppers a full grand slam of supermarkets, with a Tesco, a Lidl, an Aldi AND a Dunnes all clustered along the Rathmines Road. There's also the aforementioned Fallon & Byrne for your posh bits, and there's a SuperValu in nearby Ranelagh to complete the picture.
There are two primary schools: St Louis (Catholic, mixed, 461 pupils) and Kildare Place NS (Church of Ireland, mixed, 215 pupils). Several others are nearby.
There are also three post-primary schools: St Louis (Catholic, girls, 632 pupils); St Marys (Catholic, boys, 434 pupils); and Rathmines College (interdenominational vocational school, 113 pupils).
Anything else I should check out? The Stella Cinema is a venerable Rathmines landmark on the main street, which reopened a couple of years ago as an upmarket venue for movies and cocktails. 
OK, I'm sold. Give me one piece of Rathmines trivia to impress a local. Thanks to the area's history of affluence, the 'Rathmines accent' was the forerunner of today's Dort accent in D4. None other than Vladimir Lenin spoke English with this accent, having learned it from an Irish teacher in London.
If you live in Rathmines, let us know what you think of it in the comments!