Your Neighbourhood is a series of local area guides from TheJournal.ie, presented by KBC. We're bringing you the best of city neighbourhoods combined with the latest data. 
OCCUPYING THE WIDE and, yes, leafy streets between Rathmines to the west and Donnybrook to the east, Ranelagh today is a shorthand for affluence.
It hasn't always been this way. Many of the large redbricks spent decades as down-at-heel apartments and bedsits in the second half of the twentieth century, and there are a few left still.
But their numbers are declining. In fact, they are in inverse correlation to the number of restaurants specialising in brunch, which is growing all the time.
Take me there! OK, here you are at the Triangle – 'the Angle' to its friends – where Ranelagh Road and Charleston Road meet.
So what's the big draw? There are no two ways about it: Ranelagh is an attractive place to live. Tree-lined streets of Edwardian homes are kind of its thing. Plus it has a wealth of places to eat and drink, an active local community, and an 'urban village' feel that gives it a strong sense of identity. It even has its own cinema now. 
Plus, it's minutes from the city centre, with the Grand Canal on its doorstep as an intervening green space. (If you don't mind the hordes gathering outside the Barge on summer evenings.)
What do people love about it? The village atmosphere, says Ranelagh native Catherine Kennedy.
There's a lot of businesses that have been there for 20 years and there's the annual arts festival as well which really makes it feel like a community. It has basically everything you could want: restaurants, coffee shops, pubs, supermarkets, a bookshop and three different parks so there's a lot of green space. 
And… what do people NOT love about it? Well, it's great if you have money, says Catherine.
It's definitely not the cheapest place to live in Dublin.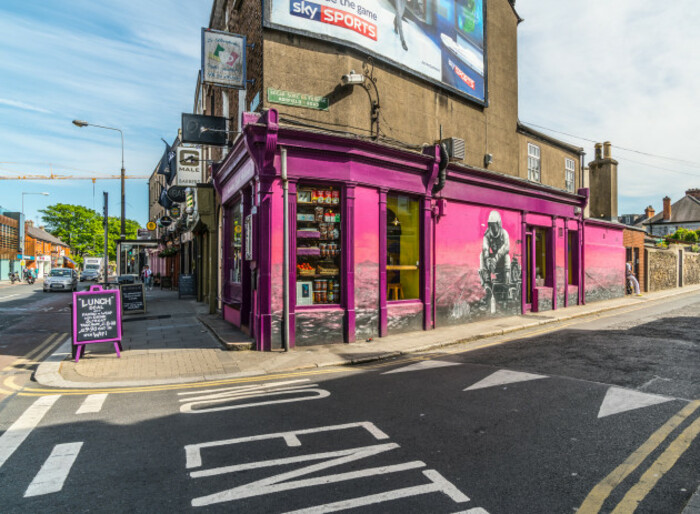 What's the story with house prices? Expensive. Verrry expensive. The average property in Ranelagh has an asking price of €642,777 according to Daft.ie – making it the eighth most expensive neighbourhood out of 118 across Dublin city and county.
How long will it take me to the city centre? From the Triangle to Stephen's Green is a short 25-minute walk, or 10 minutes on the green line Luas. Ranelagh is also on the 11, 18, 44 and 61 bus routes. And it's close to the planned southern terminus of the MetroLink project.
Where should I get lunch? As we've already discussed, Ranelagh is more about brunch than lunch. So let's talk brunch. Of the approximately one zillion options, Dillinger's is a reliable pick with some beloved specialities (try the fried chicken and waffles).
Alternatives: Er Buchetto is a good spot for a less extravagant feed, serving Italian coffee and sandwiches. For something really fancy, Host is a newish restaurant which is drawing critical attention, serving small plates and grilled meats. Or late at night, Ranelagh is due to get its own Zaytoon in autumn 2019. 
And what's my new local? There's a string of pubs along the main street. You can build an allegiance to any of them, but Birchall's is a good bet for a friendly nod and a pint.
Alternatives: The Tap House is also worth a look especially if you're seeking a craft beer. If you'd like to venture (very slightly) further, Corrigan's is a quiet and characterful place between the Rathmines and Ranelagh roads.
Schools and supermarkets? Ranelagh has a SuperValu, a Lidl and a Tesco Express, but real Ranelagh-ites do their shopping on Dunville Avenue – home to local independent supermarket Morton's as well as Best Of Italy, an excellent deli and greengrocer.
There are five primary schools: Ranelagh Multidenominational National School (multi denominational, mixed); Sandford Parish National School (Church of Ireland, mixed); St Mary's (Catholic, mixed); Gaelscoil Lios na nOg (Catholic, mixed); and Scoil Bhride (Catholic, mixed).
There are two post-primary schools: Sandford Park (interdenominational, mixed) and Gonzaga College (Catholic, boys). Muckross Park College (Catholic, girls) is in nearby Donnybrook.
Anything else I should check out? Nick's Coffee Company is a low-key coffee kiosk that doesn't look like much but serves some of the finest coffee in the city.
OK, I'm sold. Give me one piece of Ranelagh trivia to impress a local. The first Irishman to fly took off from Ranelagh. Richard Crosbie, who took to the sky in a home-made hot air balloon in 1785, lifted off from the green at Ranelagh Gardens and flew to Clontarf.
Do you live in Ranelagh? Let us know what you think of it in the comments!