Your Neighbourhood is a series of local area guides from TheJournal.ie, presented by KBC. We're bringing you the best of city neighbourhoods combined with the latest property data. 
NOT MUCH MORE than a hundred years ago, Kimmage was the countryside. Taking its name from the river Poddle that runs through it - camaigh uisce is 'winding water' in Irish – it was an area of estates and farmland outside the city.
Then came the Church Street disaster of 1913, putting the Corporation under pressure to provide better housing for families stuck in inner-city tenements. Hundreds of homes were built in Kimmage, in streets that formed the shape of a Celtic cross (where Clonmacnoise Road and Bangor Road meet) and were named after monastic settlements: Cashel, Clonard, Monasterboice.
For most of the twentieth century, the neighbourhood was a mix of Corporation homes and private schemes, with a relatively settled population. In the last few years, however, it has seen a new influx of young families – with its convenient location, green spaces and good access to facilities making those ex-Corporation homes a relative bargain.
Kimmage runs between Terenure to the south, Drimnagh to the north and Crumlin to the west, with Harolds Cross between it and the canal.

Take me there! OK, here you are outside the shops on the Sundrive Road.
So what's the big draw? Kimmage has an elusive mix of attractions – it's close to town but has plenty of green space; it's handy for lots of amenities but house prices aren't stratospheric. These qualities have seen a lot of young families move in over the last few years, bringing fresh energy to an area where many residents have lived all their lives.
What do people love about it? It's handy for the city centre – but keeps its own identity too, says resident Darragh Molloy.
Kimmage is close to town but also feels just far enough out of the city that you get a real sense of community and the tradition of the area. I walk to work every day, through Mount Argus Park and church, and it always makes me glad to be living in such a pleasant area. There are plenty of young families moving in which brings new life to the place as well.
Meanwhile, Paulie Doyle is very concise about the area's benefits:
Some really nice pubs, parks, and people!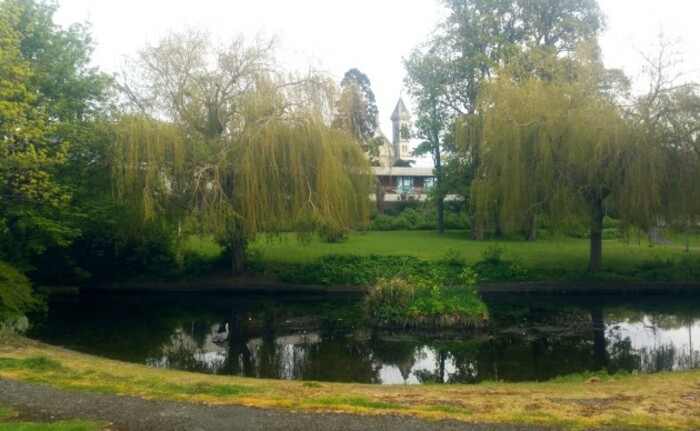 Source: Darragh Molloy
And… what do people NOT love about it? The village itself could use a little new life, says Darragh.
There is definitely an opportunity in Kimmage for modern restaurants, pubs, local coffee shops – particularly with the younger generation and young professionals currently living and moving to the area. Maybe over time Kimmage will rival the likes of Rathmines or Ranelagh, but for now there seems to be more takeaways and caffs. Not a major thing, but still important in bringing community closer together.
What's the story with house prices? The average asking price among properties on the market in the first three months of 2018 was €374,858, according to Daft.ie. This puts it well below its glamorous neighbours in Terenure (€584,053) and Templeogue (€561,135) but significantly above the equivalent figure for Crumlin (€298,834) and Drimnagh (€282,705).
How long will it take me to the city centre? It's about a 45-minute walk into town. But the bus will get you there in 15 minutes outside rush hour, or you can reckon on a similar journey time in the car.
Kimmage is on several Dublin Bus routes including 9, 54a, 83, 83a and 150.
Where should I get lunch? Try the Hungry Duck, a newish (open since 2016) cafe and restaurant on the boundary of Kimmage, Crumlin and Perrystown. They do an array of fancy sandwiches and soups – or a solid brunch at the weekend.
Alternatives: It wouldn't be fair not to mention Matt The Rashers, home to one of the city's legendary fries. And Pickles Deli is a longstanding local place serving quality homemade food and decent coffee.
And what's my new local? The Stone Boat on the Sundrive Road is a local in Dublin suburban tradition: big, with a family-friendly lounge that's busy at weekends.
Schools and supermarkets? There's a SuperValu on the Sundrive Road, or a Tesco Express on the lower Kimmage Road. Otherwise you can head to Terenure for Aldi and Lidl, or Dunnes in Crumlin.
There are five primary schools in the immediate vicinity: Marist NS (Catholic, mixed, 305 pupils); Loreto (Catholic, mixed, 423 pupils); Scóil Una Naofa (Catholic, mixed, 384 pupils); Gaelscoil Mologa (Catholic, mixed, 225 pupils); and Harolds Cross NS (Catholic, mixed, 346 pupils).
The three closest post-primary schools are Rosary College (Catholic, mixed, 157 pupils); St Kevin's (interdenominational, mixed, 181 pupils); and Pearse College (interdenominational, mixed, 178 pupils). There are several other options nearby too.
Anything else I should check out? Roches Barbers, on the lower Kimmage Road, is a piece of living Dublin history. The shop itself has been in business for 75 years, but the Roches have been cutting hair since 1860. They moved to Kimmage after their previous one, on the North Strand Road, was destroyed by a German bomb in 1941 – and have been there (among other locations) ever since.
OK, I'm sold. Give me one piece of Kimmage trivia to impress a local. Christy Brown, the man made famous by Daniel Day-Lewis in My Left Foot, grew up in Kimmage. His mother Bridget Brown had seen her parents and siblings killed in the Church Street tenement collapse; after her marriage, the family moved to the new housing development in Kimmage. You can read more about their story here.
Do you live in Kimmage? Share your opinion in the comments!