Your Neighbourhood is a new series of local area guides from TheJournal.ie, presented by KBC. We're bringing you the best of city neighbourhoods combined with the latest property data. 
FAIRVIEW AND MARINO might have different names, but the two small neighbourhoods are so interwoven that it is next to impossible to draw a divide. In fact people sometimes drop the 'and', making just one area: Fairview Marino.
However, they do have different histories. Fairview began to grow at the very end of the 18th century after the building of the Annesley Bridge. Its oldest houses, on Marino Crescent (see what we mean about the interweaving?) are Georgian.
Marino, meanwhile, was built in the 1920s and 1930s as the Irish state's first attempt at public housing. It was a 'garden suburb' – literally so in fact as it followed the layout of the planned formal gardens of Marino House – built around a central green space. Only families with a minimum of four children could apply for houses, but still 4,400 applications were received for the first 248 dwellings.
Today, Fairview and Marino run north from the Annesley Bridge over the Tolka. They are bordered by Drumcondra to the west, Beaumont and Donnycarney to the north, and Clontarf to the east.

Take me there! OK, here you are on the edge of Fairview Park.
So what's the big draw? Fairview and Marino are minutes from town, but have a village community of their own. There is an impressive concentration of independent shops – a greengrocer, fishmonger, deli and several butchers among them – and an impressive amount of green space.
The neighbourhood is generally very settled with many Marino residents especially having grown up in the area. However, in the last ten years there has also been an influx of young families, drawn by the proximity to the city centre and (relatively, always relatively) affordable property market.
What do people love about it? The warmth of the community, says Jimmy Bowler, owner of Bram's Cafe.
The people are just wonderful people. I've lived there for forty years – I'm originally from Kerry – and they always give me such a warm welcome – people actually stop and talk to you. There's such a willingness to say hello and I've always noticed that living and working in the area.
While recent resident Sinead Farrelly picks the location:
So handy for going to college in the city centre, getting home from nights out and heading to Dublin games both in Parnell Park and Croker. The many bus routes also meant that I would never be long waiting for a bus home from town.
And… what do people NOT love about it? Along the main roads the traffic and noise can be significant, says Farrelly.
The noise can get quite bad at times, particularly around matches or concerts as well as all the rubbish left behind by crowds on their way to Croke Park.
What's the story with house prices? The average asking price in the area is now just over €433,000, according to analysis by Daft.ie. This is more than the Dublin average (€395,000) and rising quickly – up by more than 80 per cent in the last five years.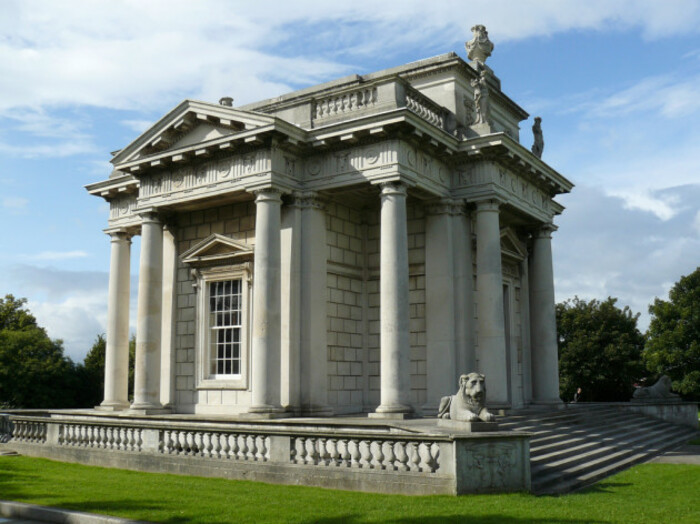 How long will it take me to the city centre? It's a half-hour walk from the iconic Edge Hardware sign in Fairview to O'Connell Street. The bus will get you there in just under 15 minutes on a good day, or it's a 10-minute cycle.
Clontarf Road Dart station may be called Clontarf, but it's really just as close to Fairview. From there the train will get you to Tara Street in seven minutes flat.
Fairview and Marino are extremely well served by buses, sitting as they do on a major road artery to the north city. Numbers 14, 15, 27, 29a, 31, 32 and 130 all pass by.
Where should I get lunch? Kennedy's Food Store is a northside mini-chain with a loyal following. They serve a great range of sandwiches, salads, brunches and more.
Alternatives: The aforementioned Bram's Cafe is a centrepiece of the neighbourhood and a meeting point for locals.
And what's my new local? Brú House is a brewery-run craft beer pub serving up good pints (and grub) in a friendly atmosphere.
Alternatives: Gaffneys is an old-school Dublin pub with a friendly welcome and a cold pint. It's a mecca for Dublin fans on match days too.
Schools and supermarkets? Thanks perhaps to their wealth of independent retailers, Fairview and Marino don't have much in the way of big supermarkets. There's a Tesco Express on the park, but the nearest of size is Aldi on the East Wall Road.
There are 5 primary schools: St Mary's (Catholic, mixed); St Joseph's (Catholic, boys); Howth Road (Presbyterian, mixed); Marino GNS (Catholic, girls) and Scoil Mhuire (Catholic, boys).
There are three secondary schools: Árdscoil Rís (Catholic, boys); St Josephs CBS (Catholic, mixed); Marino College (interdenominational, mixed); and Mount Temple (Church of Ireland, mixed).
Anything else I should check out? You can now visit the secret tunnels underneath the Casino at Marino were used by Michael Collins and other military leaders to test-fire Thompson submachine guns during the War of Independence. The idea was to keep the firing secret – but in fact it could be heard all over the neighbourhood.
OK, I'm sold. Give me one piece of Fairview and Marino trivia to impress a local. It is said locally that U2 guitarist The Edge's nickname was inspired by local institution Edge Hardware, famous for its rooftop sign. "The Edge used to go into Edge as a young fella and that's how he got his name," says cafe owner Jimmy Bowler. (There are also competing theories.)
Do you live in Fairview and Marino? Share your opinion in the comments!
[embed id="embed_5"]