Your Neighbourhood is a series of local area guides from TheJournal.ie, presented by KBC. We're bringing you the best of city neighbourhoods combined with the latest property data. 
BACK IN THE 18th century, Lucan was a spa resort. People around Dublin flocked to enjoy the medicinal qualities of its water - which, incidentally, was said to have a bluish foam and "the flavour of… a semiputrid egg".
Dubious though those qualities might sound, the village became a popular destination with a ballroom, a railway and its own tram line. Sufferers of tuberculosis, herpes, impetigo and even "mild leprosy" came to enjoy the supposed benefits.
Two hundred and fifty years later, Lucan is one of the largest urban areas in the country, around the same size as Waterford city by population. The number of residents has roughly quadrupled since 1976 as the town has taken its place as a key part of Dublin's growing commuter belt.
Geographically, Lucan is divided into 'old' and 'new' – with the old area, north of the N4 bypass, centred around the village. The new area stretches east to Palmerstown and Clondalkin, and south through Finnstown, Adamstown and Griffeen Valley.
Take me there! OK, here you are at the heart of old Lucan, facing toward Kenny's pub.
So what's the big draw? Well, Lucan's contribution to Irish pop culture has been significant – the area has given us Conor McGregor and Jedward in the last decade alone.
Those assets aside, though, Lucan is an area of settled families with a good mix of ages. It has good transport links, including by rail, and practically endless shopping nearby – Liffey Valley is on the doorstep and Blanchardstown not much further.
Its rapid growth in the 80s, 90s and beyond brought some negative publicity – the Adamstown development in particular was a notorious casualty of the recession. But future plans aim to make development more sustainable. (And as it happens, Adamstown is back in action.)
There are promising signs in terms of infrastructure, too – Lucan is shortly to get its own swimming pool. 
What do people love about it? It's a great community that is also convenient, says lifelong resident Ciara Dunne.
My favourite thing is probably the proximity to most things, and the overall sense of community. 
And… what do people NOT love about it? The roads can be… problematic, adds Ciara. And development of amenities still lags behind housing.
The traffic for sure! Especially at rush hour and school times. [It would be good to see] better infrastructure or more amenities developed before more houses are built.
What's the story with house prices? The average asking price for a property in Lucan is currently €308,464, according to Daft.ie. This is substantially less than the overall Dublin average of almost €395,000.
How long will it take me to the city centre? On a good day with no traffic, it's a 20-minute drive into town. In rush hour conditions, it's about 50 minutes on the bus.
However, the train from Adamstown will have you at Heuston in 15 minutes. Thanks to the Phoenix Park tunnel, services at peak times also run to Connolly, Tara Street and Grand Canal Dock.
Where should I get lunch? The River Cafe Bistro serves good salads, burgers and a breakfast that one local resident describes as "serious".
Alternatives: Reeds on the River is a higher-end place next to Courtneys pub, which might be more of a dinner option. Carrolls Gastro Pub is also highly rated by locals.
And what's my new local? It has to be Kenny's, a beloved local in the best possible sense. Good for evening pints, family Sunday lunches… you name it really.
Alternatives: The aforementioned Carrolls, literally metres away in the old village, is also a solid option.
Schools and supermarkets? The supermarket options are manifold. There's a Tesco Superstore just off the bypass, plus a SuperValu and a Dunnes in the shopping centre. Lidl is just slightly further east toward Liffey Valley Park.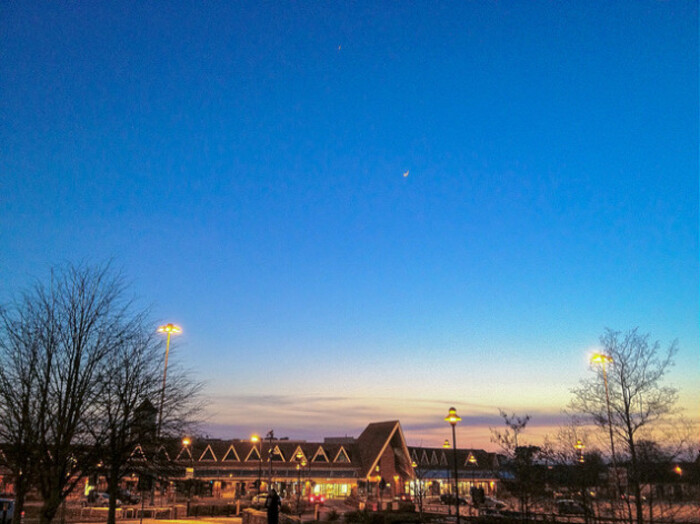 For schools, too, Lucan is exceptionally well supplied. There are too many primary schools to list – 17 in total, covering all the usual permutations, with three Educate Togethers and a Gaelscoil in the mix.
There are seven post-primary schools: St Josephs (Catholic, girls); Colaiste Phadraig CBS (Catholic, boys); Lucan Community College (interdenominational, mixed); Colaiste Cois Life (interdenominational Gaelscoil, mixed); Adamstown Community College (multidenominational, mixed); Kishoge Community College (multidenominational, mixed); and Griffeen Community College (multidenominational, mixed).
Anything else I should check out? If you've had a night out in Lucan, and you're feeling a little fragile the next day, hit the SuperValu. The chicken fillet rolls are a "hangover cure well known in the area", says Ciara Dunne. "You'd see queues on the deli counter on a Saturday or Sunday afternoon".
OK, I'm sold. Give me one piece of Lucan trivia to impress a local. The oval dining room at Lucan House is said to have inspired the Oval Office in the White House.
Do you live in Lucan? Let us know what you think of it in the comments!