Your Neighbourhood is a new series of local area guides from TheJournal.ie, presented by KBC. We're bringing you the best of city neighbourhoods combined with the latest property data. 
KILKENNY, OF COURSE, is more than just a neighbourhood. It's a city – albeit a compact one, with a smaller population than several towns. (Its city status has occasionally even caused controversy.)
Since its humble sixth-century beginnings as a religious settlement in honour of St Canice, Kilkenny has carved out a central place in Irish history. Several noble and/or kingly types picked it as a base, and today we have them to thank for the medieval city centre.
It remains a place that punches above its weight culturally speaking (as well as in the hurling stakes). Kilkenny draws tourists from abroad, of course, but also has a thriving festival industry – with Cat Laughs, Kilkenomics, Kilkenny Roots and the longstanding Arts Festival among those attracting visitors from around the country.
Today's Kilkenny isn't all medieval archways: the city has grown significantly in the last century with newer estates springing up around the centre and as far out as the N77/N10 bypass. MacDonagh Junction Shopping Centre, billed as the largest in the south-east, opened in 2007.
The construction of the M9 motorway in the last decade has brought Kilkenny within two hours of Dublin by car. Just.
Take me there! OK, here you are in the heart of the medieval city – on the high street facing towards the Tholsel and the castle beyond that.
So what's the big draw? Kilkenny is a lively, attractive and compact city with relatively little sprawl. It's well equipped with shopping and other facilities, but still has a thriving centre. Not to mention the nightlife, which continues to draw stag and hen groups – but they tend to stick to the same places and are easy enough to dodge.
What do people love about it? It's a welcoming hub of creativity and life, says local resident Mags Ni Loinsigh.
The friendliness of the locals and the fantastic food, drinks and conversations you can encounter in local establishments along with the long tradition of brewing and the creativity of people here really make the city stand out. That is before you take to the streets in the night-time – which still catches my breath every time I get occasion to explore.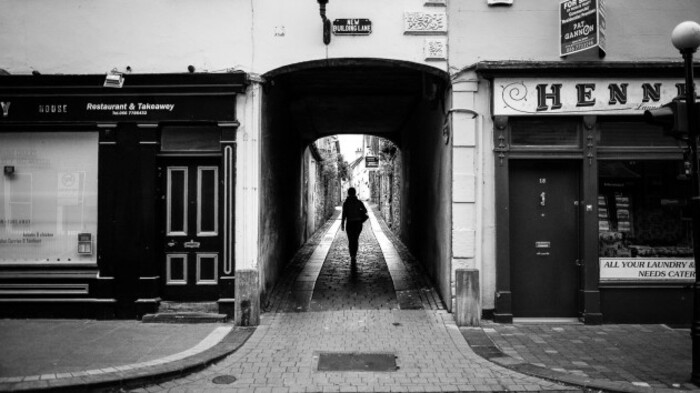 And… what do people NOT love about it? Some of the streets could be cleaner, says Mags.
As I walk a lot my least favourite bit is the fact that a lot of people seem incapable of picking up after their dogs. It spoils the hard work of the council and makes an obstacle course of the sidewalk, not good if you have a buggy or wheelchair.
What's the story with house prices? The average asking price in the city itself is €224,800 according to Daft.ie. That's below the national average which is hovering around €260,000. However, it's significantly higher than Carlow (€173,000) or Waterford city (€158,000).
How long will it take me to the city centre? Kilkenny is a small place. Anywhere inside the ring road is going to be less than half an hour's brisk walk to the centre.
In terms of other transport links, Kilkenny is handily positioned on the Dublin-Waterford rail line. It's just over an hour and a half to Heuston, 35 minutes to Waterford or Carlow.
Where should I get lunch? Try Cakeface, which serves gourmet sandwiches and (perhaps more importantly) eye-watering desserts and coffee.
Alternatives: For something more substantial try Foodworks. For something even more casual, and with an excellent name, visit the Blaa Blaa Blaa sandwich bar just on the river.
And what's my new local? Kilkenny has no shortage of pubs. For a quiet but perfectly formed pint, pay a visit to Ó Riada's on Parliament Street.
Alternatives: Cleere's just a couple of doors down is a legendary music pub. Or visit the World's End and do some people watching.
Schools and supermarkets? There are two branches of Dunnes, one either side of the river. There are also two SuperValus, two Aldis and two Lidls.
There are no fewer than ten primary schools in the city itself, including Catholic, Church of Ireland, and multidenominational institutions.
There are seven post-primary schools: Kilkenny College (Church of Ireland, mixed); Loreto (Catholic, girls); CBS (Catholic, boys); Presentation (Catholic, girls); Coláiste Pobail Osraí (interdenominational, mixed); City Vocational School (interdenominational, mixed); and St Kieran's (Catholic, boys).
Anything else I should check out? The Hole In The Wall is a music venue in Ireland's oldest surviving townhouse – the building dates from 1582. It's now a very small bar and an intimate venue, with gigs, workshops, art installations… you name it.
OK, I'm sold. Give me one piece of Kilkenny trivia to impress a local. The city has the dubious honour of being the location of Ireland's earliest witch trial on record. In 1324, wealthy local woman Alice Kyteler was accused of poisoning several husbands, as well as more colourful stuff like having sex with a demon.
Alice ultimately used her powerful connections to flee the trial. However her servant, Petronella de Meath, was less fortunate. She was tortured, made a confession, and was burned at the stake.
Do you live in Kilkenny? Share your opinion in the comments!