Your Neighbourhood is a series of local area guides from TheJournal.ie, presented by KBC. We're bringing you the best of city neighbourhoods combined with the latest property data. 
AS TOWNS IN Ireland go, Greystones is actually pretty new. Records show that before the eighteenth century, there wasn't much here – at most a few fishermen's cottages; certainly nothing that made a mark on many maps.
A small fishing village was beginning to develop around the turn of the 19th century. But it was the arrival of the railway in 1855 that really kicked things off. Suddenly, Greystones was an attractive pocket of coastline within easy reach of the capital, and growing accordingly. The centre of today's town sprang up in the second half of the 19th century, along an axis between the station and the harbour. It's still an attractive old main street.
Like many other Irish towns, though, Greystones has seen some of its most dramatic population growth in the last few decades. The older estates date from the 1970s, but there were a healthy few additions in the Celtic Tiger years too and there are yet more in development – particularly to the south and west. A fresh crop of celebrity residents – Saoirse Ronan and Hozier among them – is only likely to spur growth further.

Take me there! OK, here you are outside the station, facing up the main street.
So what's the big draw? Greystones is a coastal town, and the sea remains a big part of its identity even as the town itself has spread inland. The seafront is a key amenity that is well used by residents – especially since the opening of the long-delayed new marina – and the views over the Irish Sea can be spectacular.
Meanwhile, it's a town of some size – hey, as of 2019 it has a dedicated website – that still has its 'village' feel, without an out-of-town retail park to leach life from the centre. It has a reputation as a friendly place for families and kids, too.
What do people love about it? The community spirit, says Danica Murphy, a resident of 15 years' standing.
For me the best thing about Greystones is the real sense of community. People are genuinely friendly. There are lots of amenities that are accessible to everyone, like sports, walks, restaurants, theatre which makes it really easy to engage with your neighbours.
And… what do people NOT love about it? In common with other popular destinations, traffic can be an issue, says Danica.
A downside is the volume of traffic in and out of the town related to all the growth.

What's the story with house prices? In keeping with Greystones' status as a desirable destination, prices are substantial. The average list price of a property according to Daft.ie is €408,000 – significantly above neighbouring Bray despite the increased distance from Dublin.
How long will it take me into Dublin? It's a 40-minute drive on a good day, or more like an hour on the bus. At rush hour, getting into the city by road can take a long time.
But the real draw here, of course, is the Dart. It will get you to Pearse in a reliable 50 minutes, with sea views along the way.
Where should I get lunch? The Bear Paw Deli is a cafe that started out in Delgany before opening in Greystones too. They do fresh sandwiches, salads, pastries and coffee.
Alternatives: Try The Three Qs for something a bit fancier. And no guide to Greystones would be complete without mentioning its most famous non-celebrity residents, the nude-swimming, yoga-loving, cookbook-writing brothers of the Happy Pear.
And what's my new local? Danns Bar at the Beach House is a pub-within-a-pub, a quiet place where you can usually get a seat and a good pint.
Alternatives: Mrs Robinson's on the main street is a younger place with cocktails and craft beers.
Schools and supermarkets? Two SuperValus – one in the centre, the other to the south – plus a Lidl, an Aldi, and a Tesco Superstore. There's also a Donnybrook Fair, no less.
There are no fewer than eight primary schools around Greystones. There are three post-primary schools nearby: St David's (Catholic, mixed); Temple Carrig (Church of Ireland, mixed); and in Kilcoole, Colaiste Chraobh Abhann (interdenominational, mixed).
Anything else I should check out? The Whale Theatre opened a couple of years ago on the site of a theatre that tried and failed in the boom years. It brings comedy, music, live screenings from the National Theatre and the Met Opera… and more.
There's also the cliff path around Bray Head, which despite its popularity is one of Ireland's most spectacular short walks.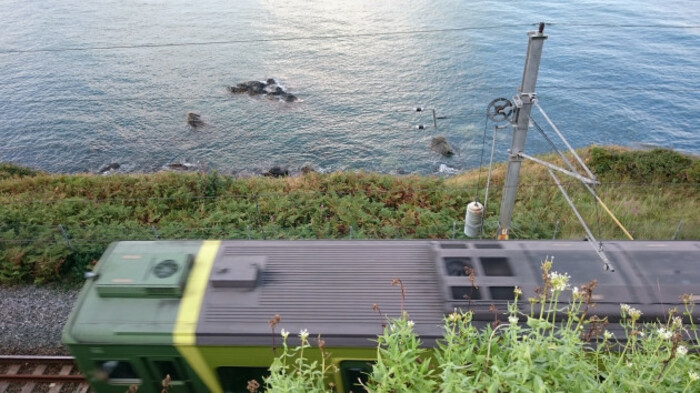 OK, I'm sold. Give me one piece of Greystones trivia to impress a local. The men's bathing place – commonly known as The Men's, and now in a state of uncertain appearance as Greystones Guide has documented – has been a local landmark for decades. It used, of course, to be a swimming area reserved for men.
Except, says historian Gary Acheson, for a period in the 1960s – when it alternated between the sexes, one year for men, the next for women. Fair's fair.
Do you live in Greystones? Share your opinion in the comments!