Your Neighbourhood is a series of local area guides from TheJournal.ie, presented by KBC. We're bringing you the best of city neighbourhoods combined with the latest property data. 
WAY BACK IN the 1800s, Milltown did exactly what it said on the tin.
It was home to a starch and glue mill, as well as a woollen mill which was a large source of local employment – there were 60 or so paid-up workers in 1837, according to A Topological Dictionary of Ireland.
Why all the mills? The River Dodder, which flows through the area, was the perfect place for a mill race, a strong narrow current which powered water wheels.
These days, of course, mills are no longer a core part of the manufacturing industry, but Milltown's reputation as a prosperous area still lives on. The southside suburb is home to a wealth of fee-paying schools, plus some eye-wateringly high suburban property prices. (In 2018, a chimney – just a chimney – sold for €136k.)
Along with older established residents, there have been several new apartment complexes built to house a younger population – and Trinity College's student halls sit on Dartry Road. Despite the many changes to the area in the last close-to-two-centuries, you can still get a sense of the history of Milltown with a stroll underneath the Nine Arches Bridge, built in 1854 to carry trains from Harcourt Street to Bray.

Take me there! OK, here you are on Milltown Rd, in front of Spar, with the Luas up and to the right of the junction.
So what's the big draw? Milltown doesn't have a huge centre, but it sits snugly between Clonskeagh and Dundrum to the south, and Ranelagh, Rathmines and Rathgar to the north. Since 2000, the population has skyrocketed, and was estimated at 4,000 according to the most recent Census results, but there's still a strong sense of history here.
What do people love about it? The handiness, says Sarah Carroll, who has been living in Milltown since she was born.
"It's near to Dundrum, not that far from town, and there's loads of facilities nearby. But you can escape from all that with a walk down the Dodder river too."
Fionn, who runs Milltown Landscapes and has been living in the area since he was three, says the growing population means there's lots for young kids to do. "My daughter loves the local playground," he says. "Milltown feels small but there's a big range of ages here."
And… what do people NOT love about it? Both Fionn and Sarah say Milltown could do with a few more places to dine out. "We definitely need more brunch spots, bars and coffee shops," says Sarah.
"There just aren't many places to sit down and get something to eat. A couple of new cafes have opened up, but that's really it," says Fionn. And as the dad of a young child, Fionn also points to the lack of non-fee paying primary schools as a big flaw – something that's been a bugbear of residents for some years now.
What's the story with house prices? As you'd expect with a Dublin 6 postcode, prices in Milltown are pretty high – in the top 21% of all Dublin neighbourhoods, to be exact. The exact average price for the Milltown/Dartry area is currently €522,691, according to analysis by Daft.ie for the first quarter of 2018.
How long will it take me to the city centre? Thanks to the Luas, you can be at Stephen's Green in 15 minutes, or six stops. If you'd prefer the bus, hop on a 61, a 44 or an 11 and you'll be in the city in about 15 minutes. At a brisk pace, it's about a 45 minute walk, if you're feeling active, and you'll make it by car in ten minutes if traffic is light.
Where should I get lunch or dinner? Formerly a Dublin city centre staple for fans of authentic Italian, Steps Of Rome opened an outlet at Bird Avenue in Milltown last year. There's even the option to sub in vegan cheese on your calzone, in true Dublin 6 style.
Alternatives: Head to Wilde & Green in Milltown for upmarket deli fare like sausage and bacon sambos, Belgian waffles and tuna melts (but on a weekend you'd want to get there early for a seat). Or check out Black Sheep Coffee, just up from Steps of Rome.
And what's my new local? The Dropping Well is Milltown's main local pub, sitting on Classon's Bridge over the Dodder (find the rhino sculpture and you're not far off). There's a full food menu daily, summer barbecues, live music on Saturday nights and a wine and cocktail menu too.
Alternatives: Fionn favours Ryan's at Windy Arbour, a quiet spot during the week, with a good after-work crowd on Fridays from the nearby Dundrum Business Park. "It's homely, that's how I'd describe it," he says.
Schools and supermarkets? 
There's been a long-running campaign to fund a national school in Milltown, with the last dedicated national school in the area, Mount St Anne's, closing in 1995. Nearby, there are at least 5 primary schools of different denominations: Our Ladys Grove National School (Catholic, mixed), Rathgar National School (Methodist, mixed), Stratford National School (mixed), Zion Parish Primary School (Church Of Ireland, mixed), Kildare Place National School (Church of Ireland, mixed) and Alexandra College Junior School (Church of Ireland, girls).
There are at least 6 secondary schools nearby, mainly fee-paying: Alexandra College (Church of Ireland, girls), Stratford College (mixed), The High School (Church of Ireland, mixed), St Marys College (Catholic, girls), Gonzaga College (Catholic, boys) and Sandford Park School (multi-denominational mixed).
If you're looking for shops, there's a large Spar on Milltown Rd, or you can head to nearby Ranelagh for a Lidl, SuperValu and Tesco Express. There's also a SuperValu in Rathgar, or for a full-on Big Shop, head to the newer and larger Aldi and Lidl in Terenure.
OK, I'm sold. Give me one piece of trivia to impress a local. That rhino in the River Dodder? He first appeared there in 2002, but almost met a soggy end later that year when the river flooded. The sculpture disappeared beneath the flood water – according to an Irish Times report at the time – but thankfully when the water dropped, he was still standing tall.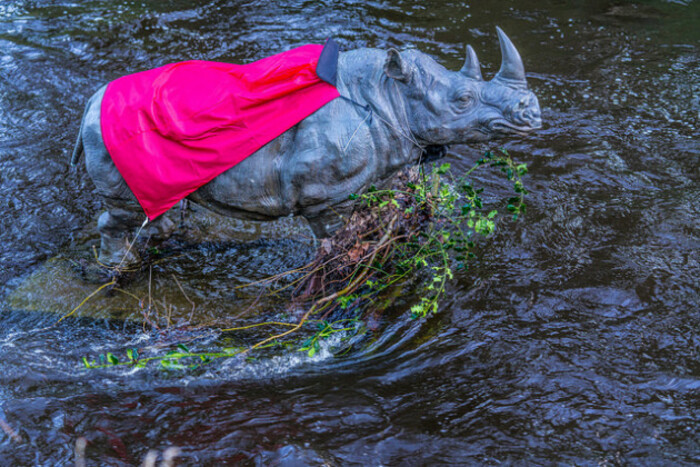 Do you live in Milltown? Share your opinion in the comments!