Your Neighbourhood is a series of local area guides from TheJournal.ie, presented by KBC. We're bringing you the best of city neighbourhoods combined with the latest property data. 
WHEN THE NUTGROVE shopping centre opened in Churchtown in the mid-1980s, it brought with it the first drive-thru McDonald's in Europe.
At the time, the neighbourhood was on the outer fringes of Dublin; the land the shopping centre was built on was formerly a fruit orchard. And for most of its history, Churchtown – named after the tiny St Nahi's church – was largely estate and agricultural land. It was only during the 20th century that hundreds of houses sprang up between Dundrum and Rathfarnham, and the area came into being as a residential neighbourhood.
It can be hard to pinpoint the centre, dominated as it is by residential streets. But the SuperValu and other shops on the Braemor Road are as good a starting point as any.
Churchtown is an affluent area that has seen an influx of young families in recent years, drawn by its location, quiet streets and strong transport links. They mingle with residents of longer standing to make the neighbourhood today.
Take me there! OK, here you are at the shops on the Braemor Road.
So what's the big draw? Churchtown is a quiet neighbourhood, dominated by residential streets and keeping a fairly low profile next to its noisier neighbour Dundrum. But it's close to town, positioned handily for the M50 and only a couple of minutes' drive from the Wicklow hills. It has a growing population of young families, and while some amenities may still be playing catch-up, the neighbourhood isn't short on community spirit.
What do people love about it? The location, says Elaine Butler.
In Churchtown we've easy access to the city centre via the Luas and Dublin Bus, and a choice of great parks nearby like Rathfarnham Castle, St Enda's and Marlay. And in 15 minutes by car you can be deep in the countryside or at the beach.
Martin Kettle agrees.
Churchtown is a very nice area, it's in great proximity to a large number of facilities and schools, also close to the M50 and road network to everywhere.
Ruvé Stewart highlights the neighbourhood spirit.
The area has become so friendly and vibrant, people looking out for others and very proactive in giving a helping hand. The community spirit is definitely alive and well. A lot of young married couples have moved into our area in last few years which is wonderful to see. When we were marooned in the last snow storm, young couples reached out to their elderly neighbours – it was so heartening to see and be part of such a caring community.
And… what do people NOT love about it? The lack of a central focal point is a downside, says Helen Finn.
There is no real identifying centre – just rows of houses, although there has been an effort to establish a central identity outside the SuperValu shopping area. A small park with a sculpture or fountain or something would be nice but I don't think would be possible. Also a bus link with the Dundrum Luas would be a good idea.
Local schools are yet to catch up with the influx of families, says Elaine Butler.
We also have very few schools in Churchtown itself, with most people travelling to nearby areas to attend schools. Currently there is only one mixed Catholic primary for what is a very popular area for families.
What's the story with house prices? Steep. The average asking price of a home in Churchtown and Windy Arbour, according to Daft.ie, is €586,226. That's higher than the equivalent figure for its neighbours Dundrum and Rathfarnham – although not as high as Clonskeagh and (especially) Goatstown, where the average is an eye-watering €671,509.
How long will it take me to the city centre? It's about 20 minutes in the car from Churchtown into the city on a normal day, but at peak times it'll be much longer.
The number 14 bus takes a similar time.
However, Churchtown is just a few minutes' walk from the Luas stops at Dundrum and Windy Arbour. From each of those, the tram will get you to Stephen's Green in around 10 minutes.
Where should I get lunch? Thanks in part to the lack of a well-defined centre in Churchtown itself, many of the eating and drinking spots are in neighbouring Dundrum and Rathfarnham.
But there are some options. Among them is the relatively new Union Cafe, a branch of the popular spot in Mount Merrion serving brunches and burgers.
Alternatives: Howard's Way is a reliable local dishing out substantial feeds for breakfast, lunch and dinner.
For something a little different, try Overends Kitchen a few minutes' away on the grounds of Airfield estate, with a focus on locally-sourced ingredients. There's also an embarrassment of options in Dundrum Town Centre.
And what's my new local? The Bottle Tower pub is a longstanding local landmark (named after the actual Bottle Tower, see below) that has recently been revamped with an emphasis on food, craft beer and whiskey.
Alternatives: The Glenside is a more traditional local, thatched roof and all.
Schools and supermarkets? Other than the aforementioned SuperValu on the Braemor Road, there's a big Lidl, an Aldi and a Tesco Superstore at Nutgrove, and another Lidl and Tesco in Dundrum.
There are three primary schools in Churchtown: Good Shepherd NS, on the Whitehall Road (Catholic, mixed, 215 pupils), Gaelscoil na Fuinseoige (multidenominational Gaelscoil, mixed), and Ballinteer Educate Together (multidenominational, mixed).
There is one secondary school: De La Salle College (Catholic, boys, 348 pupils).
Anything else I should check out? The actual Bottle Tower, which gave its name to the pub, is an idiosyncratic local landmark – a conical granary building, built in 1741 as a way to provide employment for local people during a period of famine. There were a full seven floors inside, according to this blog post.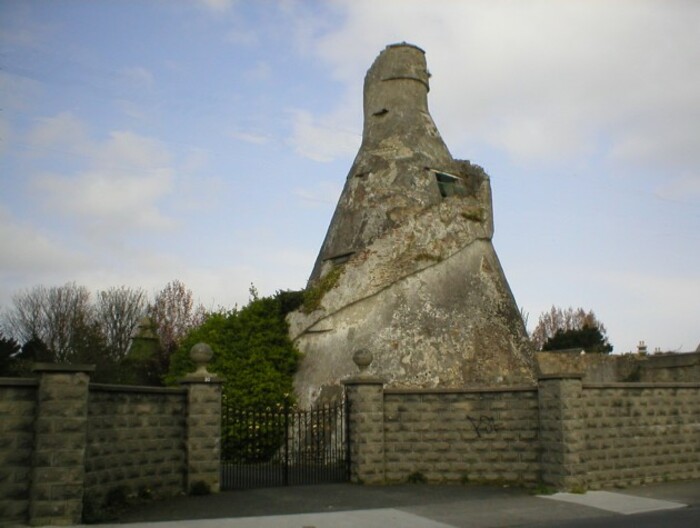 OK, I'm sold. Give me one piece of Churchtown trivia to impress a local. Churchtown is the spiritual (and was the literal) home of HB Ice Cream, makers of every Irish child's favourites. HB was founded as Hughes Brothers in 1926, with a manufacturing facility on Hazelbrook Farm in Churchtown. The plant closed in 2005, but until then was the source of many a childhood summer memory.
Do you live in Churchtown? Share your opinion in the comments!