Your Neighbourhood is a series of local area guides from TheJournal.ie, presented by KBC. We're bringing you the best of city neighbourhoods combined with the latest property data. 
UNTIL THE 1930s, Cabra was mostly populated by cows. The city of Dublin petered out west of Phibsboro and north of Stoneybatter, giving way to fields.
Some of those fields were farmed for vegetables; others were used as grazing for the thousands of cows on their way to the cattle market at Hanlon's Corner. But from the 1920s onwards, Dublin City Corporation began mass-building houses in the triangle between the Royal Canal and the North Circular, and hundreds of families moved in.
That development continued in the form of several big projects through the 20th century. As a result, Cabra's streets are neatly formed – taking symmetrical curves around the two big churches in the area, and coming together in well-defined estates. There's also a good bit of green space.
Today, Cabra is a lively area where residents of several generations' standing mix with young families. It can be divided roughly into Cabra East – a slightly older area, which also includes a lot of big houses shading into Phibsboro – and Cabra West, further from town, which on the whole is newer.

Take me there! OK, here you are in front of what are known locally as the '17 Shops' – the heart of Cabra East.
So what's the big draw? As a rare area of central Dublin that was intentionally 'designed', Cabra has an unusual amount of green space and homes sit on generous plots.
While very close to the city centre, it hasn't seen gentrification at the same pace as its neighbours like Phibsboro and Stoneybatter. As a result, over the last few years it's been a (relatively) affordable place for young families, though prices have nevertheless risen quickly.
Many residents have long family roots in the area and that brings a strong community. Over the years, Cabra has seen some negative media attention, but residents feel that its positive side hasn't been as well represented.
What do people love about it? Handy location – and the houses have good gardens, says resident Jonathan Ryan.
Great location! Close to town with plenty of buses and now the new Luas line. But also very close to Blanchardstown and right on the M50. Phoenix Park is close by as well. Clarke's bakery does a savage roll and there are loads of good takeaways. The houses may seem a little on the small side but the gardens can be very big – especially the ex council houses – offering plenty of room to extend.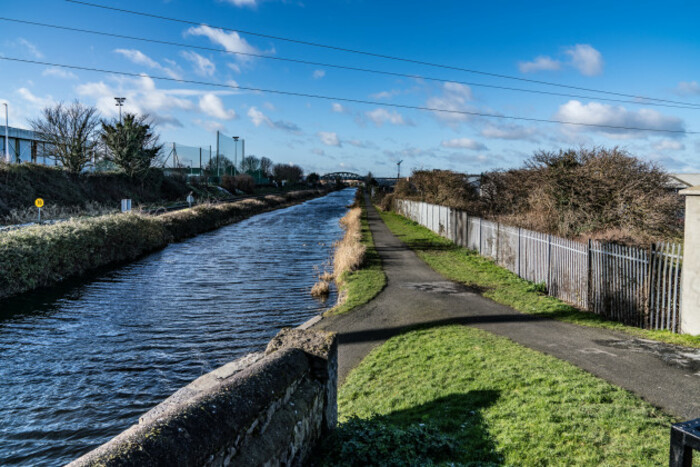 And… what do people NOT love about it? It isn't as rich in amenities as some of its neighbours, says Jonathan.
It still needs more amenities versus the population, more restaurants, cafes, shops etc. Roads are quite tight and parking can be a problem. Some parts of Cabra still have a bad reputation despite most areas being relatively quiet.
What's the story with house prices? Rocketing. Since the depths of the recession in 2012, prices in Cabra have more than doubled – in fact, it's seen the biggest relative increase in property prices anywhere in the country according to Daft.ie. Currently, the average asking price is €328,000.
How long will it take me to the city centre? The arrival of the Luas has slashed times into the city (to the northside, at least… crossing the city centre can be pretty slow). It will get you into town in 10 minutes or so from the Cabra stop, a little more from Broombridge.
There's also the 120, 122, or 38 buses, which take a little longer than the tram. Or it's between 30 and 50 minutes walk into town, depending on which end of Cabra you're starting from.
Where should I get lunch? Clarke's Home Bakery on the Cabra Road is a local institution, family-run for almost half a century. They serve coffee, sandwiches, and a famous fry.
Alternatives: For something a little fancier, Treat around the corner is a deli and gift shop that serves coffee and cake. There are lots more options a stroll away in Phibsboro and Stoneybatter.
And what's my new local? The Homestead on Quarry Road is a good spot for a pint, with friendly staff. It serves food too.
Alternatives: Downey's, next to the 17 Shops, is a venerable pub that draws a loyal crowd of locals.
Schools and supermarkets? There's a Tesco Superstore where the Navan Road meets the Old Cabra Road, and a brand new Lidl at Hanlon's Corner. Cabra is also well supplied with butchers and greengrocers.
There are seven primary schools in the area: Christ The King (Catholic, boys and girls); St Catherine's (Catholic, girls), St Finbarr's (Catholic, boys); North Dublin Muslim NS (Muslim, mixed); Educate Together Broombridge (interdenominational, mixed); Scoil Sinead (multidenominational, mixed); and Gaelscoil Bharra (Catholic, mixed).
There are four post-primary schools: Cabra Community College (vocational, interdenominational, mixed); Coláiste Mhuire (Catholic Gaelscoil, mixed); St Declan's (Catholic, boys); and St Dominic's (Catholic, girls).
Anything else I should check out? The Cabra Grand is a piece of living history – an old cinema that sits in the middle of the knot of shops on Quarry Road. Today, it has found a new life as a bingo hall. For years it doubled as a music venue – hosting gigs by the Ramones, Siouxsie and the Banshees, Duran Duran and, ah, Boyzone.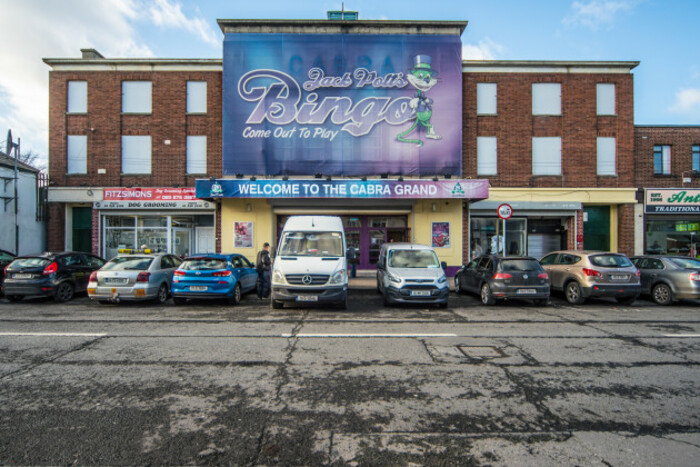 OK, I'm sold. Give me one piece of Cabra trivia to impress a local. Cabra was the childhood home of eccentric Dublin character Thomas 'Bang Bang' Dudley. Bang Bang famously enjoyed Westerns, and travelled the city with a large key which he used as a 'gun' – taking it out and 'shooting' people while calling out his catchphrase. He became well-known in the city and several anecdotes recall large-scale 'gun battles' breaking out as passers-by joined in with his game.
Do you live in Cabra? Let us know your opinion in the comments!
[embed id="embed_4"]