Your Neighbourhood is a new series of local area guides from TheJournal.ie, presented by KBC. We're bringing you the best of city neighbourhoods combined with the latest property data. 
BRAY IS FIRST and foremost a railway town. Although there have been settlements here for millennia – and historic visitors included the Romans and Oliver Cromwell – the town as we know it came to life when the railway arrived in 1854.
Suddenly, what had been a sleepy village on the fringes of the Pale was transformed into a buzzing resort town. Bray underwent a building boom as investors sought to exploit the influx of visitors. In the process appeared the Victorian seafront that we know today.
As the popularity of foreign holidays grew in the second half of the 20th century, Bray's popularity as a destination declined. Its permanent population, however, has increased – the tourists replaced by year-round residents, many of whom commute to Dublin.
The town is now Ireland's ninth-largest urban area, with its own arts centre, newspaper, radio station, League of Ireland club and other sporting organisations. It has lost retail to large shopping centres, but the the long-delayed Florentine Centre is finally due to be built.

Take me there! OK, here you are on the main street in front of the Holy Redeemer church.
So what's the big draw? 
Bray is a thriving, coastal community with plenty of family-friendly bars, restaurants, two libraries, its own air display each summer, farmers' markets each week at Kilruddery Estate and even a seaside playground.
With 17 schools in the town, it's also got a wealth of options to suit each family. You can walk along the beach, wander up Bray Head, grab a tasty meal with the family and still get to the city centre easily within 45 minutes.
What do people love about it?
It's not just the community people feel passionate about in Bray, it's all the multitude of places you can wander to, says Jennifer O'Brien who grew up and currently lives in Bray:
I think we're very fortunate to have the promenade, the harbour, Bray Head and the Cliff Walk. Not many other towns are as lucky as us. They're always a brilliant way to clear your head.
Lifelong resident Rosie Popham echoes this and shares how Bray's cultural amenities really make a difference:
I love the access to the sea and our proximity to the Wicklow Mountains. Bray has a thriving community spirit, great libraries and a brilliant cultural space at 

Mermaid Arts Centre

.



And… what do people NOT love about it?
Although the restaurant scene on the seafront has seen many new openings over the last few years, many residents share their dissatisfaction with the retail offering on the Main Street. Rosie shares:
On the downside the main street has been neglected for years and needs new energy. The retail end of Bray leaves a lot to be desired.
Jennifer reflects this sentiment, and adds that traffic can be difficult to deal with at times for residents:
Our main street is pretty woeful for the amount of people living in the town, seems there are just take aways, charity shops and euro shops. Also traffic can be pretty shocking getting and and out of Bray.
Local Gavin Lacey adds that the long-awaited Florentine Centre is badly needed:
An injection of new retail would give Bray a lift, hopefully the Florentine Centre gets built soon but that's been in the planning phase for a really long time so we'll see.
What's the story with house prices? The average asking price of a property in Bray is €373,700 according to Daft.ie. That puts it roughly on a par with Kilcoole to the south. It's significantly cheaper on average than its nearby neighbour Greystones, but more expensive for commuters than other towns outside Dublin like Maynooth and Dunshaughlin.
How long will it take me into Dublin? It's a 40-minute drive on a good day with the wind behind you. Obviously, that changes radically at rush hour when the N11 is notoriously slow.
However, the Dart is more consistent time-wise. It's a solid 39 minutes from Bray to Tara Street, with good views along the way of the south Dublin coast. Bray is also connected by Dublin Bus (45a, 84/a, 145), Bus Éireann and the Aircoach to Dublin Airport.
Where should I get lunch? Try Campo de' Fiori, an Italian close to the the seafront that does handmade pizza sandwiches with a range of delectable fillings. It also stocks decent coffee and sweet baked treats. 

Alternatives: Box Burger and Platform Pizza, owned by the same group, do very nice versions of their specialties in informal surroundings. Caffe Letterario GattaNera serves good coffee, paninis and pastries among other things.
And what's my new local? The Harbour Bar, obviously. Once voted Best Bar In The World by the Lonely Planet, it continues to do what it does best: provide excellent drinks with a shooter of great atmosphere. Oh, and they have a cosy fire in winter.
Alternatives: For something fancy, Butler and Barry has a fine view out over the sea and serves gastropub food. The bar at the Martello draws an older crowd.
Schools and supermarkets? There's a Dunnes, a Tesco and a SuperValu right in the middle of town, with a Lidl just a few steps to the north. Further south, another larger Tesco and an Aldi.
There are nine primary schools in Bray: Ravenswell (Catholic, mixed, 280 pupils); St Peter's (Catholic, mixed, 160 pupils); St Cronan's (Catholic, boys, 520 pupils); St Pat's (Catholic, mixed, 800 pupils); Gaelscoil ui Cheadaigh (Catholic, mixed, 200 pupils); Scoil Chualann (Catholic, mixed, 230 pupils); St Andrew's (Church of Ireland, mixed, 220 pupils); Bray School Project (multidenominational, mixed, 240 pupils); and St Fergal's (Catholic, mixed, 440 pupils).
There are eight post-primary schools: Woodbrook College (Catholic, mixed, 330 pupils); St Gerard's (Catholic, mixed, 547 pupils); St Kilian's (interdenominational, mixed, 500 pupils); Presentation College (Catholic, boys, 650 pupils); Loreto (Catholic, girls, 830 pupils); North Wicklow Educate Together (multidenominational, mixed, 40 pupils); St Thomas' Community College (interdenominational, mixed, 14 pupils); and Coláiste Raithín (interdenominational Gaelscoil, mixed, 270 pupils).
Anything else I should check out?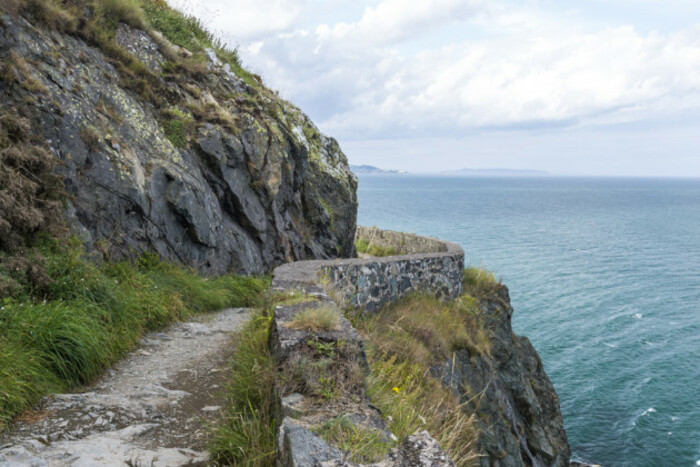 Source: Shutterstock/RUZvOLD
Most locals frequent the two most popular mountainside walks in the town – to the cross on Bray Head (with views out across Dublin Bray) and towards Greystones along the Cliff Walk, seen above.
OK, I'm sold. Give me one piece of Bray trivia to impress a local.
Well, there's a few. Bray was the site of Ireland's first ever sex shop when Utopia opened its doors in 1991. Its local McDonalds, which is located in the old town hall building, is considered to be within the top 5 coolest of their locations in the world by USA Today.
The town is also the hometown of a host of celebrities including Laura Whitmore, Dara Ó'Briain and Katie Taylor. Both James Joyce and Sinéad O'Connor have lived there, and Hozier even went to school there. It's also famous for having its own film studio, linked to screen favourites like Braveheart, Frank, King Arthur and The Tudors.