Your Neighbourhood is a series of local area guides from TheJournal.ie, presented by KBC. We're bringing you the best of city neighbourhoods combined with the latest data. 
FOR MUCH OF the country, Blackrock is less a neighbourhood than a punchline. It's the spiritual home of the Dort accent, an unlucky position in pop culture.
But for most of its life Blackrock was just a small fishing community on the coast south of Dublin, and these village roots still show. It's a compact place with a small town centre – completed by its own market – that is dominated by buildings from the area's time as a fashionable seaside resort in the 18th century. And although it is sliced by two or three major roads, green spaces including Blackrock Park make it a pleasant place.
Today, Blackrock stretches between Booterstown to the west and Monkstown to the east, with Mount Merrion and Deansgrange to the south.

Take me there! OK, here you are at the heart of Blackrock: where Main Street and Temple Road join.
So what's the big draw? There's obviously a lot of prestige attached to certain bits of Blackrock: one of the country's most famous private schools, for starters. But it's a more mixed place than its reputation might suggest, with a town centre rich in independent shops and cafes.
Plus you're by the sea just 15 minutes from central Dublin, with panoramic views across the bay.
What do people love about it? It's a great community and the views are beautiful, says Blackrock native Emmet O'Neill.
Blackrock has a nice community feel about it, I went to primary school there and I'm still friends with a lot of people around the town. Good pubs, restaurants and nightlife. It's a very safe town to grow up in and a nice view of the sea.
And… what do people NOT love about it? Those two shopping centres are super convenient, but they do mean a lot of cars, says Emmet. Plus it's not the cheapest.
The traffic can be quite heavy because of the two shopping centres. It can be an expensive place to live.
What's the story with house prices? Um, the story is that they are high. According to Daft.ie figures the average asking price for a property in Blackrock is now €581,810 – putting it in the top tier of Dublin neighbourhoods for property value.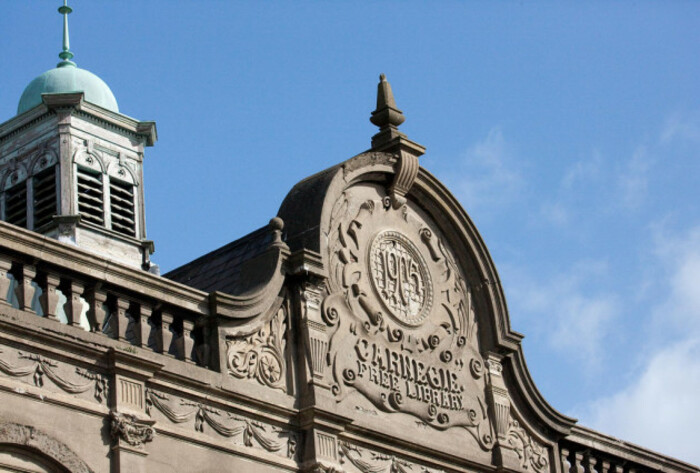 How long will it take me to the city centre? It's a half-hour drive on a good day from Main Street in Blackrock to Stephen's Green. Needless to say, rush-hour traffic will push this much longer.
But a key attraction of this area is the Dart, which will zip you into town in just 15 minutes. It's a nice trip along the seafront and all. (We won't be held responsible for how jammed it is at peak times though.)
Where should I get lunch? Ciamei Cafe is a small Italian joint in the back of Blackrock Market that serves up excellent sandwiches, fresh pasta and low-key antipasti. Try the home-made desserts.
Alternatives: The main attraction at Bear Market Coffee is, well, the coffee – but they also do pastries and simple sandwiches. Or try Three Leaves, a highly regarded Indian street food place in Blackrock Market.
And what's my new local? Jack O'Rourkes is an classic Victorian-style pub on the main street, with a warm fire and cold pints.
Alternatives: Kelly & Coopers is a newish (opened 2018) gastropub on Main Street, serving a wide selection of beers, gins and whiskeys. 
Schools and supermarkets? There's a SuperValu in the Blackrock Shopping Centre, plus an Aldi and a Marks and Spencer in the Frascati Centre. In the town centre there is also an organic supermarket called, um, The Organic Supermarket. There's also a Dunnes to the south on Newtownpark Avenue, and a Tesco Superstore just off the N11.
There are four primary schools nearby: Guardian Angels (Catholic, mixed); Carysfort (Catholic, mixed); Booterstown NS (Church of Ireland, mixed); and Scoil Lorcan (Catholic, mixed).
In terms of post-primary schools, there are two non-fee-paying: Newpark (Church of Ireland, mixed) and Dominican College (Catholic, girls). There are also two fee-paying schools: Blackrock College (Catholic, boys) and Willow Park (Catholic, boys).
Anything else I should check out? Food-wise, the pride of Blackrock is Liath – the restaurant formerly known as Michelin-starred Heron & Grey, and regularly cited as one of the best in Ireland.
OK, I'm sold. Give me one piece of Blackrock trivia to impress a local. In the Maretimo Gardens estate just east of the centre, there's a mysterious locked gate. It opens to a private footbridge over the Dart line. This in turn leads on to what was once a private bathing area that formed part of Lord Cloncurry's estate. His house has long since been demolished, but the private bridge remains.
Do you live in Blackrock? Let us know what you think of it in the comments!
[embed id="embed_4"]