Your Neighbourhood is a new series of local area guides from TheJournal.ie, presented by KBC. We're bringing you the best of city neighbourhoods combined with the latest property data. 
SAY THE WORDS 'Bishopstown' or 'Wilton' to someone, and they'll probably think of one of two things: doctors or students.
The area is home to Cork University Hospital, the largest teaching hospital in the country. It also houses thousands of students from Cork Institute of Technology, and sits just west of University College Cork.
With a combined population of around 27,000, Bishopstown and Wilton sit south of the River Lee and are bordered by the Curraheen River, one of the Lee's key city tributaries.
Although Bishopstown House itself was built by Bishop Peter Browne of the Cork and Ross diocese as a summer home in 1720, that's not where Bishopstown gets its name.
References to Bishopstown, or 'Ballineaspig' can be found in Ordnance Survey records dating back to the sixteenth century. Wilton's beginnings are less well-documented, but both areas have been growing in a similarly unplanned, somewhat ad-hoc fashion over the last couple of centuries.
These days, the third-level institutes in the area mean there's no shortage of young residents and short-term rentals, though you'll also find locals who have been here all their lives.

Take me there! OK, here you are right in front of the Bishopstown Bar, at the junction of Curraheen Road and Bishopstown Road.
So what's the big draw? Despite being close to the city centre, Bishopstown and Wilton are residential areas, through and through. There are endless quiet estates, and although many properties are rented out to the growing student population, you'll still find plenty of long-time residents.
In fact as recently as 2018, a 10-year long campaign for a playground in Bishopstown came to fruition, with Cork City Council confirming to local lobbyists and residents groups that building would begin this summer. Plans for the playground on a site at Murphy's Farm were initially drawn up back in 2008, but funding was pulled at the time.
What do people love about it? The area's convenience for colleges and the city centre can't be beaten, says Cian McCarthy, a CIT student and recent blow-in to the area:
I moved here for college this year. As a student I think it's perfectly suited because I can be at CIT in 15 minutes on foot. The area is quite residential as well so there's never any trouble.
Long-time resident Aoife O'Sullivan, who has been living in the area for close to ten years, loves how close she is to the countryside, too:
The city boundary is at the bottom of my hill so we are looking at green fields! There is a fabulous walkway in Murphy's Farm where I regularly run with my dog, this joins up to further walkways and greenways that eventually lead to the Mardyke and the city centre.
And… what do people NOT love about it? Aoife, who played a key role in the aforementioned campaign for a Bishopstown Playground, says things are simply a bit scattered here, with no "cohesive village centre." Joe O'Connor of the Bishopstown Cafe agrees: "The lack of a village centre as envisaged by Cork city planners is unfortunate,as it would enhance the area massively."
Ronan Donovan has been living in the area for 25 years and says a better traffic flow through Wilton would make a big difference:
Since the new Aldi and Lidl were built, traffic has been heavy in that area which could certainly be rectified… Perhaps also more cycle lanes could be added.
And the 208 might be handy, but the timetable could be more frequent, says Cian:
When I have opening shifts in work there's no bus early enough. The hour walk into town can be a bit taxing but sure you need to get your 10,000 steps somehow.
What's the story with house prices? At the expensive end for Cork. The average asking price of a property in Bishopstown and Wilton is €302,867 – putting this in the same tier as Douglas (€306k) and Blackrock (€310k), according to Daft.ie.
How long will it take me to the city centre? As Cian mentions, from Bishopstown it'll take you the guts of an hour to walk into the city centre, though from Wilton you'll make it in 40 minutes. By car, from Bishopstown you can be on the Grand Parade in 15 minutes, and from Wilton it's closer to ten.
The 208 runs down the Curraheen Road regularly into the city, while the 214 runs a direct route from CUH to Patrick St. Other routes operating in the area include the 205 and 216.
Where should I get lunch? Try Gallo & Galetti on High St in Wilton, for a lunch and dinner menu of authentic Italian fare that goes above and beyond your typical small-town bistro. Think cured beef, spinach and ricotta tortellini or gorgonzola and roasted pear pizza.
Alternatives: Try Bishopstown Cafe on Curraheen Rd for cream-filled cakes, fresh scones and coffee, and for hangover-friendly fare, The Wilton Pub is known for its legendary carvery.
And what's my new local? While the area is far from a nightlife hotspot, the Bishopstown Bar is popular with students and long-time locals alike, and is "hopping every night of the week with events and gigs," says Cian.
Alternatives: If you can brave the walk to Douglas St or Barrack St, you'll find a wealth of excellent Cork pubs, from student haunt Fionnbarra's to Tom Barry's with its huge beer garden.
Schools and supermarkets? There's a large Tesco, a Dunnes in Bishopstown Shopping Centre, a Lidl and an Aldi. Wilton Shopping Centre is home to a large Tesco and plenty of other shops.
There are eight primary schools nearby: Gaelscoil Ui Riada (Catholic, mixed, 271 students), St Catherine's (Catholic, girls, 438 students), Scoil An Spoiraid Naomh Girls (Catholic, 282 students) and Boys (Catholic, 415 students), Togher Boys NS (Catholic, boys, 273 pupils), Togher Girls NS (Catholic, girls, 264 pupils), and Glasheen Girls (Catholic, 288 students) and Boys (Catholic, 423 students).
There are three post-primary schools: Coláiste an Spoiraid Naomh (Catholic, boys, 698 pupils), Bishopstown Community (interdenominational, mixed, 298 pupils), Mount Mercy College (Catholic, girls, 827 students).
Anything else I should check out? For walking and cycling, head to the Lee Fields and the Mardyke, an almost-continuous area of parkland starting close to Cork's Patrick St and running for 3km along the west city boundary, encompassing Fitzgerald's Park along the way. You'll find canoes, cyclists, runners and dog-walkers aplenty.
OK, I'm sold. Give me one piece of Bishopstown or Wilton trivia to impress a local. That ages-old metal red sculpture in the Lee Fields has a name, y'know: Saurian. The 'red dragon' was created by Cork sculptor Jim Buckley, whose work you'll also see in the Crawford Art Gallery's permanent collection.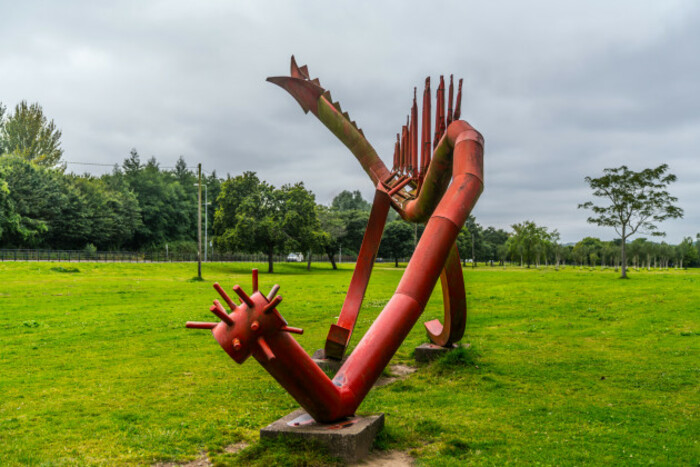 Do you live in Bishopstown or Wilton? Share your opinion in the comments!
[embed id="embed_5"]